WHERE IS GOD?
FROM A BUDDHIST PERSPECTIVE
A QUESTIONNAIRE MADE BY RASA POSTED ON YAHOO:
THE FIRST INSTALLMENT OF OTHER RESPONSES TO BE FEATURED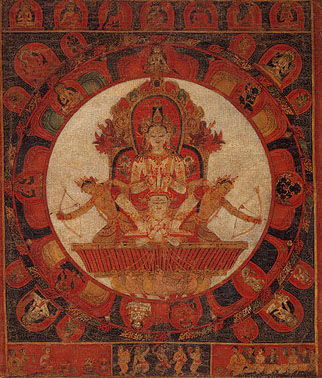 Mandala of Chandra (God of the Moon)
Late 14th–early 15th century, Nepal

1. If God is in Infinity and therefore beyond us, how can we know God?


MAITREYA SATSANG: You can not know God fully until your soul merges back into oneness with God. Until then you can experience God in existence as an individual soul, with only tastes of the full picture of God the beyond. Both are one but we can not see the whole from our tiny human perspectives.

2. If God is infinite can there be such a thing as one perfect religion or best religion for everyone?


MAITREYA SATSANG: Only one that would support an infinite number of divine human beings to find their own way to God. One that did not dictate belief systems but encourages and supports the finding of ones own truth.


3. How do you decide which religion or spiritual discipline is good, bad or not so good?
MAITREYA SATSANG: For spiritual discipline look at what has worked over time, what has been the most successful methods in obtaining freedom form Suffering?
4. Should God be symbolized as Spirit/Energy, as male God, Mother God or how? What is the best symbolism to you and why?


MAITREYA SATSANG: The best symbolisms is a personal individual choice, and when held in the understanding that there is only "one". irrelevant.
5. Almost all religions, certainly most, espouse love. Why then has so much evil occurred in the name of God?


MAITREYA SATSANG: Human attachment to irrational beliefs. 'My way is better than your way' used as an excuse for Violence.

6. If you are God in the yoga/Buddhist sense of the word, then should you still pray? Or just work on being God or finding the Self/God within? Should you work only on nonduality or should you work on the dual vision also?

MAITREYA SATSANG: You should do whatever you feel to do or even more correctly whatever it is you do. Working with whatever is real for you. Most of us experience the dual existence perhaps with tastes of the non-dual. It is healthy to stay connected with your own experience whatever that is.
7. Which is more important, finding your own Enlightenment, or helping others? If tending to others interferes with your meditation and God presence, should you ignore them or should you tend to them, even though they disturb your inner state?


MAITREYA SATSANG: Again what you feel to do and what you actually do will be perfect for your needs on your journey. We all have different karmic situations and a generic rule for these things is not helpful.
8. If God is within each person (as well as all creation) why is God so difficult to find? Shouldn't this be easy?


MAITREYA SATSANG: If it was easy would it have much meaning? Relevance or significance? Contrast adds depth. The struggle to find God intensifies the blissfulness of the ultimate re-union with that.
9. What is the purpose of mystical experiences; visions, voices, dreams, revelations and such. Are they good in any way or bad?


MAITREYA SATSANG: The purpose of all experience is simply that. Mystical experiences can be inspirations on the journey. To label as 'good' or 'bad' is mind tendency to avoid or cling to the experience.
10. If you had to spend the rest of your life on an island with people how would you like them to be? Describe the kind of people you could bear spending the rest of your life with on an island.


MAITREYA SATSANG: I would want nothing other than humans free to be themselves. Human expressions of the divine.
11. When you see God face to face how will God look? When you die and go to Heaven, what will you see? Explain what you think you will see.


MAITREYA SATSANG: You can see the many faces of God manifold in existence. I am happy to wait and see what happens when I die.


These answers are based on my own understanding and experience.
For more in-depth and very interesting answers on the ways of God please check out the teachings of Maitreya Ishwara. You can read his book "Unity - The Dawn of Conscious Civilization" direct from his web-site www.ishwara.com.


To receive messages about Maitreya with Excerpts form his book please join web groups http://groups.yahoo.com/group/Maitreyasatsang/ or http://groups.yahoo.com/group/MMC_NZ/ .

Maitreya Meditation Centre
The silent pulse of Love

760-788 Wakamarina Rd Havelock Marlborough 7154 NZ
Tel 0800 1 UNITY or +64 3 5741234
Fax +64 3 574 1232
maitreyacentre@ihug.co.nz
www.ishwara.com

DISCUSSIONS ON