EXCHANGE ON MATRIARCHY
BETWEEN RASA'S DISCIPLE, ERIN, & WILLIAM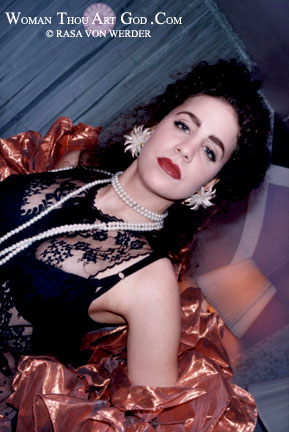 Lucia
Photo © Rasa Von Werder
DEAR WILLIAM TRYING SO HARD TO DO GOOD BY WOMEN, AND YOU POUNDED HIM LIKE THIS. BUT IT IS A GOOD AND RIGHTFUL PERSPECTIVE. INDEED, HE IS A MAN, AND DOES NOT KNOW WHAT WE THINK AND FEEL. WE WILL KEEP HIM AS OUR FRIEND AND ALLY, BUT LET HIM KNOW WHO'S BOSS!

Men are men ... bottom line. They do not deserve anything other than direction from women. If they cannot accept the direction then kick them to the curb. Most men may need a little teasing along the way but they all know that WE are the superior as for intellect, inner strength, pure raw physical power and the ability to withstand pain.

Most men are weak in all these areas. They know that we are the most awesome specimen that will ever walk the earth. They fear us and should do so. However, those that do not fear us need to be taught quickly. I disagree somewhat about females who play the dominant role to put men in their place. As a lesbian I am sexually dedicated to women however I find it my role to take men into their place. To dominate them in the office , board room, at the gym, the water cooler, the local tavern or hot spot club, the grocery store, the pharmacy , the local park or recreation area.... etc.... I feel the need to show men my superiority everyday! I do this without regret or without fear.

This is my calling in life. When a man has the sack to glare at my full muscular thighs or to make comments about my robust chest I take that opportunity to teach man a lesson they will never forget. Yes, I am that damn good I remind them but beyond that I am even more dangerous than their imagination would ever aspire to be. I want them all to know, yes, Mommy brought you in but any of us will take you out!! Do I utilize my extreme physicality ..... absolutely! Do the boys fall for my exotic looks? Absolutely! Do I teach all boys to love their mommas... absolutely! Do most boys want to go crying back to mommy when I am done with them.... YES!! Do I put the shame of a lifetime on
them...YES! Do they worship me... absolutely!! Do they respond to my demands... absolutely!

As a Goddess I find it my duty to right the wrong at their expense not mine.

We need to have all women get on board so that those not comfortable will become so. Remember, Goddesses, look in the mirror and see the energy, the power, the raw unintimidated hunger , the passion and the absolute strength that you possess and the fear that you can impose with just a look or a word. That my lady is POWER and only we have it!

Perhaps William Bond is looking for something that is not there. Mr. Bond would do better taking his head out of the textbook and journals and looking at the closest Goddess very closely. All of his questions will be answered instantly!

CHANGE IS NECESSARY, NOW !!!
Erin
Disciple of GuruRasa
November 1, 2005
RESPONSE FROM WILLIAM

Well I agree change is necessary now. Now in your comments to me. I come to believe in Matriarchy through my contact through dominant Women. I have even had a sort of relationship with a Lesbian whom I used to massage and give oral sex.


My personal experience certain Women have Goddess power within them, and it is nothing whatsoever to do with their looks or behavior. A women can be very soft and feminine but still have this Goddess power where men find they want to obey and serve her. (Or run away from her).


Women can be very powerful using feminine power they don't have to act like macho men.


REBUTTLE FROM ERIN

I can only speak from my experience(s). As a 27 y/o female in the mega-corporate world. I am certainly a small fish in a very big sea. I have learned that my male colleagues (or competition) are extremely cutthroat in the game of life. In order to maintain my status in the game I have had to become, at times, much more ruthless in order to keep myself in the corporate game. As for life itself speak to some females my age about the ongoing groping and misuse they receive in their day to day relationships. Many girls are either to weak to remove themselves or physically intimidated to make changes.
I refuse to be treated as a second class person! So, perhaps my initial presentation comes across as pompous or as a braggart but I set the pace and want to let all know where I stand. I am a believer in true female supremacy for many reasons. Perhaps I have shaped my persona based on my life experiences but I also know that there are many good people out there. Men included. As a lesbian, myself, I do not have many positive experiences with men to draw from. However, I do have them. My corporate life has shown me that most of your species are undeserving of the ultimate pleasure .... WOMAN !
The way most men speak to, about and through women is completely offensive and must be addressed to liberate and to better society. The FemDom movement is very strong and most of us are very young. We have seen the outcome of a male dominated culture and it is perverts at best. My goal in life is to create a reality that you boys will acknowledge without disregard or disrespect to those women who are still willing to lie before you.
I offer you praise for your open approach and thoughtfulness. You are a smart man however you are a man. There is only so much that you can understand about US and our desires and needs for supremacy. Perhaps you are happy being a sub to your partner but most of the boys out there are not willing to understand that their world will be better when it is OUR world!
Again, I offer you peace and hope that you will continue to see the obvious benefits and truths to a world that encourages the natural female supremacy. Also, be aware that sometimes we will need to be forceful and that is just part of the psychological game that is being played. I am playing with intent and a very serious attitude to creator change.
Best wishes to you...
Erin
Disciple of GuruRasa
November 16, 2005
DISCUSSIONS ON
---
---