DO WE NEED A SPIRITUAL GURU?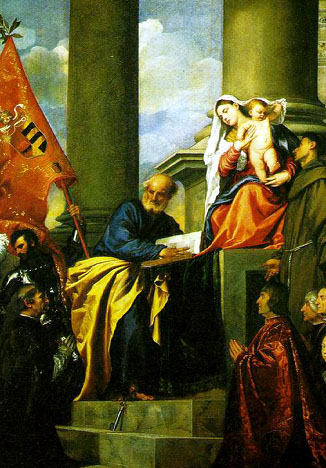 Madonna with saints and members of the Pesaro family
Titian
SPECIAL TEACHING FOR US FROM ASHANKAH ABOUT THE GURU
ASHANKAH'S YAHOO GROUP
http://groups.yahoo.com/group/Ashankah_Yogis_Self-Realization_Satsang
Spiritual journey of a seeker starts with the question, "Who am I?" and it ends with an extremely clear understanding of the answer, "I am Brahman (God)" ["Aham Brahmasmi" in Sanskrit].
The seeker brings with him/ her spiritual knowledge from earlier births and hence each seeker has his/ her own course to complete in the present birth. Every seeker doesn't need same amount of guidance to walk this spiritual path or reach the destination (if reaching the destination is to happen in the present lifetime).
DOES A SEEKER COMPULSORILY NEED A GURU?
No, a seeker might not need a living person as his/ her Guru. Prince Siddharth left his family and walked out of his palace, sat under a tree, meditated, gained enlightenment and became Gautama Buddha. He didn't have any person as his Guru. Neither did he worship images of God nor did he do any rituals.
WHO DEFINITELY NEEDS A GURU?
Any seeker who says, "I don't need any Guru" definitely needs a guru, who would help the seeker to remove the ignorance and ego that makes the seeker say, "I don't need a guru".
A seeker who says, "I need a Guru" might actually not need a living person as a guru. However, having one would certainly help him/ her.
DIFFERENT TYPES OF GURUS
The ultimate aim of spiritual journey is to realize the Non-dual truth of the universe. "Sarvam Khalvidam Brahman" i.e. All is God or the Universe is God. We love somebody because we treat ourselves different than that 'somebody'. We hate somebody because we treat ourselves different than that 'somebody'. We desire for something because we treat that 'something' as different than ourselves. We worship some 'Divine power' because we treat that 'Divine power' to be different than us. When we would understand that there are no 'Two' but just the 'ONE' non-dual existence, the essence of everything then that's what is "Ayam Atma Brahman" i.e. The Self is Brahman (God).
Whoever or whatever removes the ignorance from our minds and help us to realize "I am everything; I am God" is our Guru. That Guru could be a living person, image, books, nature or anybody else or anything else.
Gaining knowledge about the "Absolute Reality" is what is ultimately important, the source is not that important. This is because all sources will end in the same source, "God".
Transmission or Shaktipat could be from a living person (Guru) to a disciple or it could be from an object (idol, picture, book, sky, etc.) to a seeker. There is vibration in living being as well as non-living being. The idol of God is not different than the God.
It's easy to watch a two-hour movie than to read the novel based on which that movie was made. Similarly, it's easy to learn from a living person (Guru) than to learn from books and experiences. Paths are many; destination is one.
I DON'T KNOW GOD & I DON'T WANT TO KNOW GOD BECAUSE I AM GOD
One should never say, "I am God". One should only realize that, "I am God". In the state of Non-dualism, "God" and "I" cannot be TWO; there has to be only THE ONE. So, "HE is I" ('So-Ham').
It's very easy to say "Everything is God; even I am God" but mere saying that makes no difference. He who actually realizes that He is God, thereafter never talks in terms of "I". After realizing "God" in the self many seekers never returned from Maha-Samadhi (final meditation). Many seekers gave up talking (took vow of silence for rest of life). That was because after the Great Realization one can't talk in terms of "I". Anyone who uses the term "I" to refer to the 'self' is yet to understand the real "I" i.e. God.
GOD CAN BE DEFINED ONLY BY SILENCE
A king had sent his two little sons to Ashram for studies. Twelve years hence they returned after completing their studies. The king asked the first son, "What is God?" The son kept on talking about God for half an hour. After the marathon reply of the first son the king asked the same question, "What is God?" to the second son. The second son kept quiet staring at his father. When the son didn't speak a word in reply for over a minute the king spoke, "My son, you really understood what God is".
Just by saying, "Everything is God' even I am God" it doesn't mean anything; one has to realize what God is. Whatever takes us to that realization is our Guru. That could be another person, an object or the power within.
Buddham Saranam Gacchami,
Dhammam saranam gacchami,
Sangham saranam gacchami.
Ashankah.
(AYSRS)
January 11, 2006
ASHANKAH'S YAHOO GROUP
http://groups.yahoo.com/group/Ashankah_Yogis_Self-Realization_Satsang
DISCUSSIONS ON