YOGIS CLASH HEADS ON
ZEAL & AGGRESSION IN SPIRITUAL WORK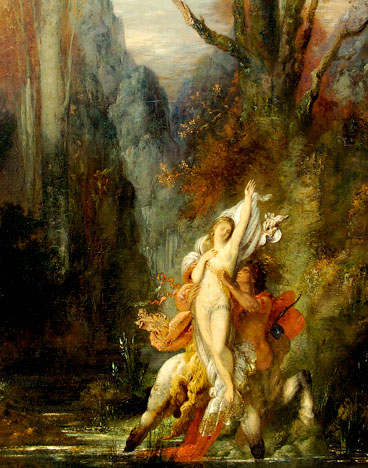 Autumn (detail)
Moreau Gustave
http://www.sandstead.com/
GURU RASA & ASHANKAH REPARTEE
ASHANKAH'S YAHOO GROUP
http://groups.yahoo.com/group/Ashankah_Yogis_Self-Realization_Satsang

'AGGRESSIVE' HAS TO BE DEFINED ZEAL IS 'LOVE IN ACTION'

WHAT MANY MINISTERS HAVE IS ZEAL, NOT VIOLENT AGGRESSION, NOT NEGATIVE AGGRESSION. I AM NOT BEATING PEOPLE UP, I AM ACTIVELY BRINGING PEOPLE THE LOVE OF GOD!
ON PASSIVE & AGGRESSIVE GURUS
Rasa Yogi, Before I write anything first let me thank everybody for such a quality response that we got recently and especially on the subject matter. Thanks to you, Pandian yogi, Rajan yogi, Surya yogi and everyone.
Coming back to you,
The entire game of 'Maya' in which we are all is nothing but playing the roles of opposites. Light and dark, joy and sorrow, spirit and matter and the long list of the pairs of opposite are two sides of the same coin, which means that we cannot have one without the other.
Lord Shiva seems to be the most peaceful image when in meditation and the same Shiva is the most horrifying image when He is annoyed and starts his 'Tandav' dance.
Goddess Kali has one serene form, 'Amba' and another fiery form, 'Chandi'.
Similarly, every human being has both 'passiveness' and 'aggressiveness' within and has to awaken the one when which one is needed. Gurus are no exception. However, one may be aggressive only when it's badly needed.
RASA: NOW I SEE THE PROBLEM. YOU ARE DEFINING AGGRESSIVE AS A SORT OF NEGATIVE, SINCE IT CAN BE BROUGHT UP ONLY IN EMERGENCIES! BUT I AM DEFINING IT AS LOVE IN ACTION. WE MUST ALWAYS DEFINE TERMS, SO WE ARE ON THE SAME PAGE!
If we have to save a person from a violent mob then we cannot deal that situation passively. In inevitable situation one has to be aggressive,
RASA: AGAIN, YOU DEFINTE AGGRESSIVENESS AS VIOLENCE OR EXTREMES. TO ME AGGRESSIVE WAS WHEN I TOOK A BULLHORN AND WALKED UP AND DOWN THE STREET PREACHING FOR 2 1/2 MONTHS IN A CITY NEAR ME.

FOR ME, POSTING ON 700 GROUPS EVERY TWO WEEKS IS AGGRESSIVE. FOR ME, ASKING EVERYONE TO INSTALL ME SO THEY CAN RECEIVE GOD'S POWER IS AGGRESSIVE. I AM NOT MENACING ANYONE, I AM BRINGING THEM THE LOVE POWER OF GOD.
...but not every now and then.
To make long story short and directly reply to your questions I am giving my honest reply.
People, in general, never like anybody calling oneself a 'Guru'. Like in English we never say 'I am Mr. XYZ'; we can say 'He is Mr. XYZ' or 'I am XYZ' but we cannot address ourselves as 'Mr.'
RASA: NOW I UNDERSTAND. THE REASON PEOPLE DO NOT LIKE ONE CALLING THEMSELVES A GURU IS BECAUSE IT IS AN EXALTED AND RESPECTABLE TITLE. THEREFORE, THEY ARE SAYING ONE WHO CALLS THEMSELVES GURU IS AN EGOTIST. SO THERE WE HAVE IT. PEOPLE SUSPECT SUCH A PERSON OF EGO AND PRIDE. BUT TO ME, PERSONALLY, IT IS JUST A STATEMENT OF FACT. YES, I DO FEEL IT CARRIES EXALTED WEIGHT AND POWER, BUT THIS IS WHAT GOD HAS GIVEN ME. HOW AM I GOING TO DISTRIBUTE THIS LOVE POWER IF I DO NOT LET OTHERS KNOW IT IS HERE? I KNOW BEFORE YOU SAID TO WAIT AND LET OTHERS COME TO YOU, BUT THAT WILL HAPPEN WHEN I AM 80 -90 YEARS OLD AND IT IS TIME TO EVAPORATE AND GO BACK TO GODHEAD... I DO NOT HAVE TIME TO WAIT, I AM PAST MIDDLE AGE. I HAVE CARRIED THE GOD POWER NOW FOR OVER 30 YEARS AND WAS NOT ABLE TO GIVE OUT A GREAT DEAL, ALTHOUGH I DID MUCH WORK - BUT I NEVER HAD A CHURCH. NOW I HAVE FOUND A WAY TO REACH PEOPLE AND GET THEM LINKED UP INTO GOD, AND I AM GOING FOR IT FULL STEAM AHEAD. IT IS NOT ABOUT EGO, IT IS ZEAL FOR THE KINGDOM OF GOD!
I COULD BE DOING LOTS OF OTHER THINGS. I COULD BE SHOPPING, REDECORATING MY HOUSE, HANGING OUT WITH FRIENDS, GOING OUT WITH MEN (I HAVE BEEN CELIBATE 27 YEARS).....I COULD BE DOING A HOBBY, OR ANY NUMBER OF THINGS, OR JUST SITTING IN MY ROCKING CHAIR WATCHING THE WORLD GO BY, WATCHING TV, GOING OUT TO DINNERS, ETC. I COULD BE WASTING MY TIME LIKE TOO MANY OTHERS ARE.
I CHOOSE TO STAY ON THE INTERNET PROMOTING THE CHURCH AND THE SHAKTI 24/7........WHY IS THAT A SIN? WHY DOES THAT MAKE ME AN EVIL DOER?
Similarly a guru calling oneself a 'guru' is not acceptable by most people and it's easy to understand that.

RASA: COULD THIS NOT BE A HINDU TRADITION, AS HERE, WE DON'T KNOW ANY BETTER. AND WE JUST DO IT BECAUSE WE CAN, AND NO ONE IS STOPPING US.........BUT IN INDIA PERHAPS THERE ARE MORE RESTRICTIONS OR TABOOS ON THIS.
People think that you are trying to promote yourself. Well, if you believe that people are wrong then why do you have to care about what they think and what they say? There is a beautiful saying, "You stand straight; don't worry if your shadow is crooked". You are what you are and not what others think you are. You are 'You' and not your 'shadow'. When your intentions are so good, why bother yourself with what the world talks about you?

RASA: YOU ARE ABSOLUTELY RIGHT AND OF COURSE I AM DOING THAT, NEVERTHELESS, I AM ANSWERING A LOT OF ATTACKS.

"GOING AND SEEKING LOST SHEEP, AND THOSE WHO NEED TO GO TO HIGHER LEVELS. IT TAKES AGGRESSION TO FIND THESE PEOPLE"
May be you have a point there. However, what if we think in a different way. There are thousands of Gurus who claim that they can foretell and many of them also claim that they can prevent destined events.
RASA: ALL OF US HAVE THE POWER TO PRAY AND PREVENT EVIL. 'THE FERVENT PRAYER OF A RIGHTEOUS MAN AVAILETH MUCH' (BIBLE) AND PEOPLE SHOULD SEEK TO PREVENT FUTURE EVIL, BECAUSE WE ARE THE STEWARDS OF THIS PLANET, AND IF WE DO NOT DO THE RIGHT THING NOW, OUR FUTURE GENERATIONS WILL SUFFER... I DO NOT BELIEVE IN THE AXIOM, 'WHAT WILL BE WILL BE' AS IF ALL EVIL IS INEVITABLE.

But, not a single guru came forward to foretell and prevent the September 11th attack on humanity.
RASA: I NEVER SAID ANYTHING OF THE SORT - THAT I COULD PREDICT OR PREVENT THIS. SO SOME GURUS ARE QUACKS AND KOOKS AND MAKE FALSE CLAIMS. DOES THAT MAKE ME EVIL? DOES THAT MAKE ME A QUACK?

Doesn't it show that there's some higher power that decides many things. Should we leave it to that higher power to decide who and when should one go to higher level?
RASA: THE HIGHER POWER HAS DECIDED. YOU AND I ARE NOT ON THE SAME PAGE HERE. WE ARE TALKING FROM TWO DIFFERENT BOOKS, OR FOUNDATIONS OF REASON.

WHAT DOES GOD WANT? WHAT IS GOD'S WILL? ACCORDING TO YOUR VEDAS, WHAT DOES GOD WANT?
NOW WE HUMANS ARE THE INSTRUMENTS OF GOD, WE DO THE WILL OF GOD. WE DO WHAT GOD WANTS. WE DO WHAT GOD WANTS IN GENERAL, AND IN PARTICULAR. THAT IS, IF WE ARE OBEDIENT TO GOD. IT DOES NOT TAKE A ROCKET SCIENTIST TO FIGURE OUT THAT GOD WANTS GOOD, GOD WANTS LOVE, GOD WANTS EVERYONE TO COME TO GOD AND BECOME ONE WITH GOD. IS THAT NOT WHAT GOD WANTS? THEN WHY NOT HELP OTHERS TO COME TO GOD, OBEY GOD AND DO THE WILL OF GOD IN THAT WAY?
GOD DOES NOT WANT EVIL. GOD DOES NOT WANT SIN, AND DELUSION. AND SO, WE WORK AGAINST EVIL BECAUSE WE WANT WHAT GOD WANTS. IT THAT DIFFICULT TO FIGURE OUT? OR DO WE SIT HERE IN OUR ROCKING CHAIR AND SAY,
'WHATEVER WILL BE WILL BE..... WHILE THERE IS EVIL AND NEED ALL AROUND US, WE DO NOTHING AND WAIT FOR THE INFINITE GOD TO DO IT ALL?

WE ARE CONDUITS, WE ARE INSTRUMENTS, WE ARE VESSALS FOR GOD, FOR THE POWER OF GOD. WE WORK, WE TRY, AND ALTHOUGH OUR FLESH POWER IS LIMITED, SOONER OR LATER, GOD STEPS IN. WHEN GOD STEPS IN, THE MIRACLES TAKE PLACE, AND THE EFFORT OF OUR FLESH BECOMES MINIMAL.
I WILL COMMENT ON HOW MY CHURCH/ASHRAM ON THE NET HAS PROGRESSED. I WENT THROUGH ALL KINDS OF HOOPS TRYING TO GET IT GOING. THAT AFTER 30 YEARS OF TRYING TO GET A CHURCH GOING, BUT BEING UNABLE.
SO I GOT THE CHURCH ON THE NET. THEN I HAD TO FIGHT MANY BATTLES. THE IGNORANCE OF PEOPLE, THEIR CONFUSION, THEIR DARKNESS AND THEIR LOWER NEEDS. I GOT ALL SORTS OF STUPID AND CRAZY LETTERS. MEN WANTING TO DATE ME, TO BE DOMINATED. WOMEN WANTING THERAPY FOR ENDLESS HOURS ON THE PHONE. PEOPLE WHO NEEDED TO GO TO WHOREHOUSES OR NEEDED MEDICATION WERE WRITING ME AND CALLING ME. HOW COULD I FIND SOULS THAT WANTED GOD? WOULD THAT DAY EVER HAPPEN?
THEN I FOUND SOULS THAT WANTED GOD, BUT WERE TOTALLY WEAK AND LUKEWARM. HOW COULD I BRING THEM TO MATURITY? I WAS RIPPING MY HAIR OUT TRYING TO FIGURE OUT HOW TO BRING ABOUT THIS 'UNIVERSITY' AND 'VIRTUAL ASHRAM.'
GOD PREDICTED TO ME,

'WHEN YOU GET 1,000 PEOPLE DAILY TO YOUR CURCH (THE SITE) YOU WILL HAVE ALL THAT YOU NEED.'

I STRUGGLED TO GET THOSE THOUSAND A DAY TO THE CHURCH, AND FINALLY I DID. AND THE PREDICTION OF GOD CAME TRUE.
WHAT HAPPENED? SAINTS CAME TO ME. SAINTS WHO WERE ALREADY PROFICIENT, BUT WERE SEEKING SHAKTI POWER TO GO TO THE NEXT LEVEL, OR TO REACH RIGHT INTO THE HIGHEST PLANE OF THE AJNA AND SAHASRARA. OF COURSE, THOSE STARTING OUT GOT HELP ALSO - WE GOT QUITE A FEW 'BORN AGAIN.'
HOW DID THIS HAPPEN? PEOPLE HEARD OF THE CHURCH, THE GURU, AND THE ANOINTING OF THE GURU, AND THEY BEGAN TO BELIEVE.
HERE IS THE AMAZING THING. I DO NOT HAVE TO DO ANYTHING! GOD DOES IT ALL! I NO LONGER HAVE TO STRUGGLE TO TEACH, TO BRING UP, TO ENLIGHTEN OR DESTROY DARKNESS. THERE IS A SAYING IN THE CHRISTIAN CHURCH,
'LET GOD BE GOD.'
WHEN ENOUGH PEOPLE CAME TO ME, ALL I HAD TO DO WAS SAY,
'INSTALL ME INTO YOUR HEART...THE ANOINTING IS HERE.'
PEOPLE ARE BELIEVEING, THEY ARE DOING IT, AND THE SHAKTI IS REACHING THEM. THIS CAME ABOUT THROUGH MY AGGRESSION, (WHICH YOU HATE SO MUCH,) BY POSTING ON OVER 600 GROUPS EVERY TWO WEEKS, FOR THE LAST SIX MONTHS.
AND NOW ALL MY PROBLEMS ARE OVER. THE CHURCH IS FILLED WITH SAINTS AND MORE COMING ALMOST DAILY, FOR THIS SHAKTI, WHICH IS EMPOWERING THEM. GOD IS DOING ALL THE WORK BUT I HAD TO DO SOMETHING TO ENABLE GOD! ANOTHER SAYING IN THE CHRISTIAN CHURCH,
'YOU TAKE CARE OF GOD'S BUSINESS AND GOD WILL TAKE CARE OF YOURS.'
We see little ones of animals. When they are hungry and sight their mother they run to her. The mother doesn't have to go searching for the little ones to feed. Similarly, gurus' availability is enough.
RASA: THAT IS THE WHOLE POINT. WHY CAN'T I GET YOU TO UNDERSTAND WHAT I AM SAYING? HOW WILL PEOPLE KNOW WHERE YOU ARE WHEN YOU ARE LIVING IN A HUT IN THE WOODS? HOW CAN THE STARVING COME TO YOU IF YOUR ADDRESS IS THIRD TREE DOWN THE ROAD FROM THE CREEK? FIVE MILES FROM THE NEAREST TOWN?


Spiritually starving seekers will run to gurus. Gurus need not have to dig seekers out of holes to push them to higher level.
RASA: VERY FUNNY. BUT SOMETIMES, YOU DO HAVE TO OFFER THAM A HAND TO PULL THEM OUT OF A PIT! THE PIT IS EMOTIONAL, MENTAL, PHYSICAL, AND THAT HAND OF LOVE INSPIRES AND EMPOWERS THEM. (RASA, GLORY BE TO GOD ALMIGHTY!)
But again that's one way of looking at it and doesn't say that any other approach of a guru is wrong. Paths of spiritual journeys are many; destination is just one.
Om peace,
Ashankah.
(AYSRS)
January 28, 2006
ASHANKAH'S YAHOO GROUP
http://groups.yahoo.com/group/Ashankah_Yogis_Self-Realization_Satsang
DISCUSSIONS ON