OUR LADY OF ZAPOPAN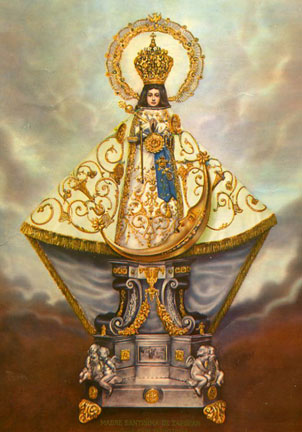 NUESTRA SENORA de ZAPOPAN
SHE WHO MAKES PEACE

Location: Village of Tzapopa (later Zapopan), province of Tonalán, State of Jalisco, close (about two miles) to the city of Guadalajara.
Origin: When he defeated the Tochos Indians that had rebelled against the Spanish power, Francisco de Bobadilla, a conquistador, founded Tzapopa in the midst of Indian territory in 1541, twenty years after the fall of Mexico. Franciscan friars soon came to evangelize the peopulation. A statue of Mary Immaculate was brought by Fray Antonio of Segovia on that occasion. The story says that this friar had offered his mediation in order to prevent more bloodshed. He came before the Indians holding a crucifix in one hand, and a small statue of Mary in the other. The Indians watched celestial twinklings around that statue. That made them lay down their arms.
History: The shrine passed on to the diocesan clergy in 1641. During the following years, after an official enquiry on the miracles ascribed to the intercession of Our Lady of Zapopan, the local ordinary transferred her feast from December 9 to December 18, one week--an octave--before Christmas. He also changed her original name to Nuestra Señora de la O or de la Expectacíon, but the original name has been kept by the people. Our Lady of Zapopan has been venerated fervently not only in Zapopan, but throughout the entire State of Jalisco. Countless miracles have continued to happen. People used to transport her to Guadalajara whenever this large city--now the second largest in Mexico--was in danger, as in 1721, in order to protect the city from plague. In 1734, she was proclaimed Patroness against storms and lightning. Even now, the statue stays in Guadalajara from June 13 to October 5. After Mexico became independent in 1821, the Virgin of Zapopan was proclaimed Patroness of the State of Jalisco and its army. She was canonically crowned on January 18, 1921.

Shrine: The current shrine (the first ones were adobe constructions) was inaugurated by the bishop of Guadalajara on September 8, 1730. Since that time, it has been enriched and made more beautiful.
The statue of Mary [at right, click to enlarge] is made of light wood and is 34 centimeters high. Mary wears a read carmine tunic and a blue mantel. There are traces of an earlier golden color. Her feet stand on a crescent moon; and her hands are clasped in prayer. The statue is usually placed in a silver vase that covers her from her hips downward. The vase is placed on a pedestal.
The statue is clothed with rich garments and adorned with an abundant wig and an imperial crown surrounded by a halo made of gold and adorned with gems. She is girded with a blue scarf like a general.
Below her hands there is a precious circular reliquary containing a golden child Jesus (possibly a reference to the title de la O). The golden staff hanging from her right arm--possibly a commander's baton--complements the scepter she carries in her hands.


www.udayton.edu/mary/resources/shrines/zapopan.html
BACK TO
---
---