ANDY'S VISION & INTERPRETATION BY RASA
AUGUST 14TH 2005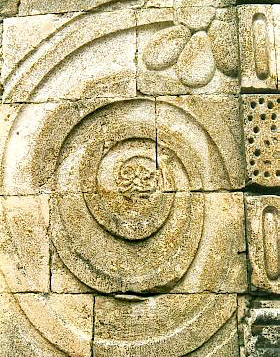 DEAR MS. RASA,

I HAD THIS VISION TWO DAYS AGO BUT IT WASN'T UNTIL TODAY THAT I WAS LEAD TO PRESENT IT. I AM NOT SURE WHERE IT CAME FROM BUT IT WAS INCREDIBLY STRONG. I SAW A WOMAN SITTING ON A THRONE. SHE WAS REPRESENTIVE OF ALL WOMEN AND HAD THE PRESENCE OF A QUEEN. I DIDN'T SEE WHAT CLOTHING ADORNED HER BUT SAW ONLY HER LOFTY STATUS.

A MAN APPROACHED HER, HUMBLY AND WITH GREAT REVERENCE. HE WAS UNCLOTHED AND ERECT BUT WAS FILLED WITH THE KNOWLEDGE THAT HE WAS TO MAKE AN OFFERING TO HER OF HIS SEMEN EACH TIME HE WAS ALLOWED AN AUDIENCE WITH HER.

I WAS FILLED WITH THE KNOWLEDGE THAT THE OFFERING WAS TO HUMBLE AND HUMILIATE THE MAN AS HE KNOWS IT IS THE ONLY THING OF VALUE HE HAS TO OFFER.

WITHIN MY HEAD I HEARD A VOICE SPEAKING IN AGREEMENT WITH THE VISION AND I WAS FILLED WITH THE KNOWLEDGE THAT THIS IS THE WAY A MAN SHOULD PRESENT HIMSELF.

BUT I BECAME CONFUSED BECAUSE I WAS SEEING TWO MEANINGS IN IT. I WASN'T SURE IF IT WAS MEANT THAT A MAN MUST MAKE A PHYSICAL OFFERING OR IF THE VISION WAS MEANT TO SERVE AS A PARABLE TO REMIND MEN THAT THEY ARE LOWLY.
---
DEAR GODDESS RASA,

I GOT SOMETHING ELSE FROM THE VISION AT THE TIME BUT I DON'T KNOW IF IT CAME FROM MY HEAD OR FROM WITHIN THE HEAD OF THE MAN IN THE VISION.

I SPOKE OF THE HUMILIATION OF THE MAN REALIZING HE HAD SO LITTLE TO OFFER. BUT I WAS SEEING AWARNESS AND HUMILIATION COMING TO THE MAN AS HIS OFFERING SERVED TO REMIND HIM OF HAVING NO SELF-CONTROL AND OF THE EMBARRASSEMENT OF BEING CONTROLLED BY LUST.

I SEE GREAT WISDOM IN YOUR SITE. SADLY IT CAME FROM BEING TREATED POORLY. I REMEMBER HOW I FELT GOING TO FIRST GRADE. I WAS HUMBLE LIKE THE DUST. I HAD A FEMININE SPIRIT AND WAS SENSTIVE TO THE FEELINGS OF OTHER BOYS. MY BODY WAS THIN AND I WAS EFFEMINATE IN MY MANNER OF PLAY AND I SUFFERED GREATLY FOR IT.

I REALLY FEELTHE BOYS HAD A HATRED FOR ME. I FELT SUCH A REJECTION THAT I NEVER REACHED OUT TO THE GIRLS EITHER EXCEPT IN A VERY MINOR WAY AT BEST. BUT NEITHER DID THEY REACH OUT TO ME. SADLY BOTH THE BOYS AND GIRLS SEEMED TO BE CAPTIVATED BY THE CONFIDENT BOYS. THE OUTGOING BOYS WHO WERE OFTEN PHYSICALLY AGGRESSIVE.

YOUR TEACHINGS IN THE TOPIC "ESCAPING FROM PATRIARCHY" HAD SUCH MEANING TO ME. ESPECIALLY THE FIRST TRUTH "Each generation of males is tortured into insensitivity. All of the fine virtues are discouraged: all of the bad traits are encouraged."

EACH TIME I COME TO THE SITE AND READ A TRUTH I FEEL MYSELF BEING DIRECTED TOWARDS A MORE COMPLETE CELIBACY. MASTURBATION HAS LESS AND LESS MEANING TO ME. BLESS YOU GODDESS.
RASA: YOU ARE TRULY BECOMING A GREAT DEVOTEE. I AM HONORED TO BE YOUR SPIRITUAL MOTHER AND I AM HERE FOR ANYONE THAT NEEDS GUIDANCE, TRULY....I MUST ADD THAT A WHILE AGO I DEMANDED A LOT FROM THE DEVOTEES - THEY MUST VOLUNTEER AND DONATE. ONLY ONE OUT OF TWELVE COMPLIED!!! HOWEVER, THOSE WHO COULD NOT/DID NOT COMPLY CAN STILL BE DEVOTEES BY STUDYING, READING AND LOOKING TO ME FOR GUIDANCE. I NEVER TURN ANYONE AWAY. I JUST SIMPLY WILL NOT SPEND HOURS A DAY E MAILING THEM PRIVATELY IN ANSWERS TO PROBLEMS AND HOURS-LONG TELEPHONE CALLS - WHEN THEY ARE NOT EVEN HELPING THE CHURCH!

SO ANYONE CAN BE A DEVOTEE SIMPLY BY LISTENING AND PRAYING AND READING.

I AM GLAD YOU ARE ONE OF US, PART OF THE CHURCH. MATRIARCHY IS COMING, AND A PLACE FOR GENTLE MEN, KIND, GIVING MEN, RATHER THAN THE OLD STYLE MACHO MAN THAT HOLDS THE BRUTALITY MENTALITY. THAT HAS TO GO THE WAY OF THE APES. MUCH LOVE TO YOU AND I THINK YOU ARE GROWING VERY NICELY.