DEVOTEE DREAM ABOUT RASA
& HER INTERPRETATION
OCTOBER 19TH 2005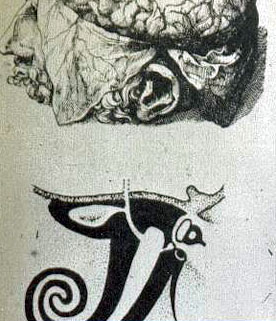 Dear Rasa,
I dreamed a dream and I don t know what to think about it. I was in front of a big closed door...
(RASA: THE DOOR TO THE KINGDOM OF GOD)
...and I wanted to go trough, I don t know why. But there were two strong women in some uniforms...
(RASA: ANGELS GUARDING THE DOOR TO HEAVEN. THEY SYMBOLIZE THAT ONE CANNOT GO THROUGH THE VEIL OR DOOR UNLESS ONE IS IN A SPIRITUAL STATE.)
...who told me that I can do it only completely naked...
(RASA: NAKED MEANS EXPOSED/OPEN. YOU CANNOT ENTER THE GATE OR DOOR TO HEAVEN WHICH IS THE GOD WITHIN YOU - UNLESS YOU EXPOSE YOURSELF AS YOU REALLY ARE, NOT THE FALSE SELF OF EGO IDENTIFICATION. WE ALL HIDE BEHIND OUR EGOS, BUT UNDERNEATH WE ARE BUT LITTLE CHILDREN TO GOD. AND IT IS DIFFICULT TO EXPOSE THIS VULNERABLE PART OF OURSELF.)
...I tried to explain to them that their request is completely crazy but they were insistant that I have to take off all my clothes if I have to go trough doors. I wasn't alone and there were other people but all females !??
(RASA: THIS IS BECAUSE WE ARE MATRIARCHAL AND BELIEVE IN A MOTHERGOD, SO GOD AND HER ANGELS AND SAINTS APPEAR AS WOMEN.)

Crazy, isn t it? There were females of all ages,from old ladies to little girls and I couldn t do it, I couldn't take my clothes off cause I was to much ashamed.
(RASA: IT IS EXTREMELY DIFFICULT TO BARE ONESELF BEFORE GOD AND STAND NAKED BEFORE ALL THE INHABITANTS OF HEAVEN)
In the moment when I decided to come back and forget this mystic door I saw an extremely strong light and in the middle of the light...
(RASA: THIS IS THE LIGHT OF GOD I LIVE IN. THIS IS THE GREAT LIGHT
IN MY SPIRIT AND SOUL.)
....was Woman in white clothes....
(RASA: PURE IN HEART)

....who smiled at me.
(RASA: THIS IS MY LOVE AND AFFECTION FOR YOU)

I recognized this smile, it was You GuruRasa. You came closer to me. You told me to look in your eyes and I felt from there incredible Strength and Love.
(RASA: THIS IS INITIATION THROUGH THE EYES, THE ENERGY OR SHAKTI GOING THROUGH THE EYES FROM ME TO YOU.)

Next moment I knelt in front of you and started to cry, I don t know why.

(RASA: CRYING IS THE GIFT OF TEARS, WHEN THE HEART IS OPENED. IT IS A SEAT OF EMOTION. THE EMOTIONS BEING OPENED, WE CRY LIKE A CHILD.)
Then I felt your hand touched my head...

(RASA: THIS IS A SECOND LEVEL OF INITIATION. THE EYES WAS ONE, WHICH REPRESENTS VISION AND UNDERSTANDING TO THE MIND, AND THE HAND, WHICH IS SECOND, REPRESENTS LOVE. VISION ALWAYS COMES BEFORE LOVE. YOU HAVE TO KNOW GOD BEFORE YOU CAN LOVE GOD. SO FIRST I TOUCHED YOU WITH UNDERSTANDING, AND THEN LOVE.)
....and some Strength and Love from you filled my heart. Like it was some kind of magic, I didn't feel fear or shame anymore. Next moment I was completely naked although I don t remember that I was take off my clothes.
(RASA: WHEN YOUR MIND AND HEART OPENED UP YOU WERE EXPOSED, AND THE DOORWAY TO HEAVEN (GOD WITHIN YOU) WAS OPENED.)

Door wasn't closed anymore and women in uniforms gave me sign that I can go trough.
(RASA: ANGELS ARE GUIDING YOU.)

I looked at you and you gave me same sign with smile. Old ladies and little girls around me smiled gently at me. I was completely naked but now I didn t feel any shame.

(RASA: SHAME IS FEAR. GOD TOOK AWAY YOUR FEAR.)

I started to cry again but this time I knew why, it was tears of happiness...

(RASA: YES, HAPPINESS CAN MAKE US CRY. BECAUSE OUR EMOTIONS ARE LOCKED UP INSIDE OURSELVES AND WHEN THE DOOR TO GOD IS OPENED, WE CRY FROM JOY. GOD IS HAPPINESS.)
WELCOME TO HEAVEN. THE CLOUDS ARE FINE.