MATRIARCHY FOREVER
By RICK HODGE, September 19TH 2005

Greetings to all. I want to speak on Matriarchy and Female Supremacy because these issues are the ones I hold dearest to my heart; these are also things I live by on a daily basis. Women are natural leaders, they are nurturing, loving, compassionate and powerful. It is true that men have a yearning deep inside for MotherGod. This is a religious path, it is not a "role-playing" game or "bondage scene." This is something that can and will affect your entire life once you
submit to it. As for myself, I have been a believer in the Superiority of Women since I was a young child. I have known that MotherGod was guiding me and teaching me, I have felt Her Hand upon my life. I am so grateful for this. She showed me that my place in life was in serving Women and helping to empower them, so that they would embrace their natural Supremacy. It is nothing to be ashamed of; the natural order of life dictates to us that Women are the Superior Gender. There is no need to fight against this sacred truth, it is far better to accept it and live in harmony with nature as MotherGod created it. Women will always be superior to men, men will always be beneath Women. When I am praying to MotherGod, I kneel upon my knees as a sign of my respect and acknowledgement of Her Superiority. This is my religion and it is deeply personal and important to me. I would urge anyone who is maybe
"sitting on the fence" over this issue to seriously pray about and contemplate this. Yield to MotherGod, it will be the most important thing you will ever do in life. All things pale in comparison to the Master's work. Matriarchy is coming, each day it comes closer to becoming reality. Actually it never has ceased, there are many people out there who worship MotherGod in their hearts and souls. Patriarchy is evil and it tries to stamp out these loyal servants of MotherGod. But we are stronger than them, we have the truth while they have nothing but lies. Come to MotherGod, kneel down and submit your life to this blessed cause. You will be glad you did; my life is so much more enriching since I did this, things make sense and I see the big picture. MotherGod is love, She is GOD and it is a joy and an honor to worship Her. I love Her with all of my heart, and I am devoted to Her Ways as they are the ways of Life. Rasa, you are the Anointed One and I kneel before you as a humble servant. I desire to serve you and this cause for the remainder of my life. I love and adore you, for you have touched my life in such a special way. I take this as a very serious matter; I will serve you if you will have me for the rest of my life. This is something which is lived each day from birth till death, it is not a diversion or a sexual compulsion, it is the true religion in its purest form. Women were meant to be the rulers, the leaders of this world. I humbly bend the knee before them, pledging my eternal loyalty and love.
---
MESSAGE FOR DEAREST RASA
By RICK HODGE, September 21ST 2005
DEAREST RASA,
THANK YOU SO MUCH FOR THE KIND WORDS AND FOR BEING THERE FOR ALL OF US BELIEVERS IN MATRIARCHY. THE DAY I KNELT AND RECEIVED YOU INTO MY HEART AND LIFE WAS THE DAY I TRULY BEGAN TO LIVE. THIS IS AN ENCOURAGEMENT FOR EVERYONE OUT THERE WHO HUNGERS FOR SPIRITUAL TRUTH AND ENLIGHTENMENT. RASA IS THE TRUTH WHICH ALL OF US ARE SEEKING. I KNOW BEYOND THE SHADOW OF ANY DOUBT THAT THIS WOMAN IS
ANOINTED WITH THE POWER OF MOTHERGOD. I HAVE FELT THIS INSIDE MY SOUL, I HAVE HAD DREAMS OF HER. SHE IS MY LEADER, TEACHER, MOTHER, GUIDE AND MASTER. IF YOU WANT A SEXUAL THRILL OR A "SCENE," GO ELSEWHERE. HOWEVER, IF YOU DEEPLY DESIRE A TRUE LOVING AND SPIRITUAL RELATIONSHIP WITH THE GREATEST WOMAN I HAVE EVER HAD THE PLEASURE OF KNOWING, THEN SHE IS STANDING HERE WITH HER ARMS OPEN WIDE TO YOU. ONCE YOU HAVE EXPERIENCED HER ON A SPIRITUAL LEVEL, YOU WILL KNOW THE TRUTH AND IT SHALL FREE YOU TO BE ALL YOU WERE CREATED TO BE IN MOTHERGOD'S SERVICE. RASA HAS THE TRUTH, SHE SPEAKS ELOQUENTLY FROM HER VAST RESOURCE OF WISDOM FOR SHE HAS LIVED IT. SHE KNOWS OF THE EVILS OF PATRIARCHY AND ALL THE LIES IT HAS PRODUCED. PATRIARCHY MUST BE COMPLETELY ERADICATED FROM THIS EARTH! PATRIARCHY IS A PARASITE AND IT SEEKS HOSTS TO FURTHER PERPETUATE ITS EVIL DOINGS. MATRIARCHY IS THE SOLUTION TO THE PROBLEMS OUR SOCIETY FACES. IT IS FOR EVERYONE WHO IS TIRED OF THE PATRIARCHAL SYSTEM. UNFORTUNATELY MAINSTREAM RELIGIONS AND CHURCHES HAVE BEEN BUILT UPON THE PATRIARCHAL SYSTEM; THIS HAS BEEN USED TO FURTHER ENSLAVE WOMEN, TO SCARE THEM INTO BELIEVING THE LIES. WOMEN ARE MISTREATED, ABUSED, RAPED AND TAKEN ADVANTAGE OF ON A DAILY BASIS! THIS IS EVIL IN THE WORST WAY... I CANNOT UNDERSTAND WHY ANYONE COULD LIVE WITH THEMSELVES, KNOWING THEY ARE HURTING WOMEN AND CHILDREN AS THEY DO. IT'S TIME FOR THE WOMEN TO TAKE A STAND AND TO RECLAIM THE POSITION OF AUTHORITY THEY WERE GIVEN BY MOTHERGOD, OUR CREATOR. A MAN'S PLACE IS IN SERVING MOTHERGOD, AND LIVING BY HER TEACHINGS. THESE ARE TEACHINGS WHICH FOSTER LOVE, NURTURING, RESPECT FOR NATURE, ANIMALS AND ALL OF CREATION. PATRIARCHY ENCOURAGES EVIL AND DESTRUCTION. THIS IS SO OBVIOUS WHEN YOU LOOK AT THE WORLD TODAY. MEN HAVE DESTROYED AND KILLED MILLIONS OF WOMEN AND CHILDREN. THEY CONTINUE TO DO THIS BECAUSE OF THEIR FEAR OF LOSING "CONTROL" TO THE SUPERIOR FEMALE GENDER. THESE ARE BASELESS FEARS, BECAUSE IT IS THE NATURAL ORDER OF ALL LIFE FOR FEMALES TO RULE. I URGE EVERYONE TO CONSIDER THIS AND PRAY ABOUT IT, ASK MOTHERGOD TO REVEAL HERSELF TO YOU. YOU WILL NEVER REGRET IT, SHE WILL CHANGE YOU AND MAKE YOU THE BEST PERSON YOU CAN BE, WHO YOU WERE MADE TO BE; A SERVANT OF MATRIARCHY AND MOTHERGOD. I LOVE YOU, RASA. THANK YOU FOR ALLOWING ME TO COME INTO YOUR GLORIOUS PRESENCE AND TO SIT AT YOUR FEET.
---

RECENT DREAM & RASA'S INTERPRETATION
By RICK HODGE, September 26TH 2005
DREAM ON THE FUTURE OF THIS CHURCH


Master Rasa,

I wanted to tell You more concerning the dream I just had about You. You were touring all the colleges and universities around the country...
RASA: DEAREST, THIS IS A SYMBOL OF TEACHING AND LEARNING. GOD HAS SENT ME TO TEACH AND THE WORLD HAS TO LEARN. IT IS A VISION, A MESSAGE, THE POWER OF GOD BRINGING IT.
...with Your message of Matriarchy and the hunger for MotherGod. People were coming forward, deeply touched by Your message. I seen men openly weeping as they realized their sins against MotherGod and Superior Women.

RASA: YES, MEN WILL WEEP WHEN THEY DISCOVER HOW THEY HAVE HURT GOD AND THAT GOD IS A WOMAN! THE MOTHER GOD THEY HAVE BEEN CRAVING WHILE SEEKING WOMEN AS SEX OBJECTS, THEY HAVE OFFENDED THIS MOTHERGOD.....REALIZING THIS, THEY WILL WEEP AND REPENT. A NEW BEGINNING FOR THEM.

Women were crying tears of joy because finally someone was preaching the truth.

RASA: INDEED, WOMEN HAVE LONG AWAITED THE TRUTH BEING SPOKEN OPENLY WITHOUT FEAR. THIS IS WHY GOD HAS ANOINTED ME, TO TAKE AWAY MY OWN FEAR AND BLAST IT LOUD AND CLEAR. THE TRUTH, THE WHOLE TRUTH AND NOTHING BUT THE TRUTH, SO HELP ME MOTHERGOD!

I was in the hallways of these auditoriums, answering questions and passing out these brochures we had made for people who passed by on their way to classes and the like.

RASA: YOU ARE THERE BEHIND ME SO TO SPEAK, TO SUPPORT, TO BE A WORKER AND FRIEND, AND GOD SPEAKS TO YOU THROUGH A WOMAN. AND GOD TELLS YOU THAT YOU ARE LOVED AND APPRECIATED! YOU HAVE A PART IN THIS WONDERFUL THING!

You were standing behind a podium and Your countenance was shining like the sun, there was a halo round about You as You spoke with conviction and the power of the Holy Spirit.
RASA: YES, THIS IS THE ANOINTING. THE POWER OF GOD COMES UPON A PERSON WHO SURRENDERS THEMSELVES, AND LIVES ONLY FOR GOD. SUCH A PERSON DRAWS THE POWER OF GOD BECAUSE THEY DO NOT TRY TO USE GOD FOR OTHER PURPOSES. THE FLESH HAS NO POWER, THE SPIRIT OF GOD IS EVERYTHING. IF I HAVE THE LIGHT IT IS BECAUSE THERE IS NO ME, ONLY GOD.

There were other Women outside with me, They were part of our Matriarchal Church and one of Them smiled at me and reminded me of how much You loved and appreciated me. It made me feel good to be working for this Blessed cause, because I know MotherGod chose me from my birth to help bring Matriarchy to its proper place in this world.

RASA: YES, GOD KNOWS FROM THE START WHO AND WHAT WE ARE AND HOW WE WILL BE USED AND ANOINTED AND REWARDED. GOD KNOWS ALL.

In my heart there is a desire to serve and She fills my soul each day with Her love and Her truth. I am very blessed and fortunate, my life will never be the same.

RASA: IT IS A WONDERFUL THING TO BE CHOSEN BY GOD. MANY ARE CALLED, FEW ARE CHOSEN. YOU ARE CALLED BECAUSE YOU ANSWERED. THAT IS ALL. GOD SEEKS WILLINGNESS ON OUR PART, AND LOVE, AND NOTHING ELSE. GOD HAS THE POWER, IS THE POWER, AND WE SUBMIT TO THIS ANOINTING!

Master Rasa, my Spiritual Mother, I love Thee with all my heart and soul. You are part of my mind and thoughts everyday. Each day I wake up and bow my knee in thanks to MotherGod that I am given another opportunity to serve You.

RASA: AND I ALSO LOVE YOU EQUALLY AS YOU LOVE ME!

This dream was prophetic I believe, although I am not good at interpreting them. However, this was the message I got. We will succeed because we are right and MotherGod has ordained this cause.

RASA: YES, IT HAS ALL HAPPENED ALMOST LIKE BY ITSELF. ALTHOUGH WE WANTED IT, YET WE YEARNED AND LONGED AND WERE SO FRUSTRATED! AND NOW IT IS UPON US!
Rasa, You are the chosen leader to bring this message to the world! MotherGod has given You the power to make this happen.

RASA: I LAUGH AND TELL MY FRIENDS I WAS CHOSEN BY DEFAULT, BECAUSE NO ONE ELSE WANTED TO DO IT. THEY WANT THE GLORY, THE FAME AND FORTUNE, THE THINGS OF THE WORLD. BUT DO THEY WANT TO PAY THE COST OF THIS? THE COST IS YOU YOURSELF DON'T EXIST ANY MORE - ONLY GOD. THEN GOD CAN USE YOU.

People may attack You, but You will be safe in MotherGod. No weapon formed against us shall prosper.
RASA: GOOD WORDS. I LIKE THAT. INDEED, WE ARE TAKING FROM CHRISTIANITY, YOGA, AND OTHER RELIGIONS AND FROM ALL OF THIS WILL COME SOMETHING NEW, DIFFERENT AND EMPOWERING! AND TRUE, THEIR EVIL WORDS MEAN NOTHING. GOD IS ABOVE ALL THE WEAPONS PEOPLE AND DEMONS WILL USE AGAINST US. GOD PREVAILS.

Patriarchy will be crushed under the Foot of MotherGod,

RASA: YES, I SEE HOLY MARY CRUSHING SATAN UNDER HER HEEL!

...and mankind will return to Matriarchy, with men kneeling in submission to MotherGod with a desire to do Her work on this Earth.

RASA: MEN WILL BE HAPPY AGAIN AS THEY WILL NOW BE UNDER SUBMISSION TO GOD THROUGH WOMEN, AND WOMEN WILL BE HAPPY BECAUSE THEY ARE ON THEIR RIGHTFUL THRONE OF AUTHORITY. INDEED THIS IS A PROPHETIC DREAM AND EVERY WORD OF IT IS TRUE!
MUCH LOVE, RASA VON WERDER
---

MESSAGE FOR MASTER RASA
By RICK HODGE, September 26TH 2005
DEAREST RASA,
I HAVE SEEN ALL OF THE ILLUSTRATIONS ON THE WEBSITE AND THEY ARE VERY BEAUTIFUL AND EXPERTLY DONE. NUMBER FOUR TOUCHED ME VERY DEEPLY BECAUSE IT IS THE TRUTH AND THE TRUTH WILL ALWAYS STAND AGAINST THE PATRIARCHAL LIES. I CAN HARDLY WAIT UNTIL THIS WORLD WAKES UP AND EMBRACES FEMALE SUPERIORITY BECAUSE IT IS THE ONLY REMEDY FOR OUR WORLD. WOMEN SHOULD CONTROL EVERY SECTOR OF LIFE, EVERY MAN SHOULD LEARN TO TAKE HIS PLACE AT THEIR FEET AS SERVANTS. MEN NEED TO LEARN TRUE HUMILITY AND RESPECT FOR WOMEN. IN THE SCHOOLS, THE BOYS ARE GIVEN THE BREAKS, WHILE THE GIRLS ARE EXPECTED TO ACT A CERTAIN WAY SO AS NOT TO UPSET THE SUPPOSEDLY "SUPERIOR" BOYS. WHAT A LOAD OF CRAP. THERE IS SUCH A DOUBLE-STANDARD GOING ON, MEN CAN HAVE SEX WITH WHOMEVER THEY WISH AND THEY ARE REFERRED TO AS "STUDS." THE MEDIA EVEN MAKES JOKES ABOUT THIS. BUT A WOMAN WHO DOES THE SAME THING IS CALLED A "WHORE." THIS IS JUST ONE OF THE MANY EXAMPLES OF HOW SICK THE ENTIRE PATRIARCHAL SYSTEM IS. ENTIRE BOOKS COULD BE WRITTEN ON THIS, AND IT WOULD SHOCK PEOPLE. DO MOST OF THEM CARE? NO, BECAUSE THEY GET SO COMFORTABLE WITH THE STATUS QUO AND RESIST CHANGE. YET, CHANGE IS NEEDED AND IT IS COMING!I JUST HAD A DREAM AND IT WAS PROPHETIC, I BELIEVE. IN IT, RASA WAS TAKING HER MESSAGE TO ALL THE COLLEGES AND UNIVERSITIES AROUND THE GLOBE AND PEOPLE WERE COMING FORTH DESIRING A TOUCH FROM MOTHERGOD. MILLIONS OF SOULS WERE BEING CONVERTED, AS THEY PLEDGED THEIR SOULS TO MATRIARCHY AND FEMALE SUPREMACY. MEN WEPT WITH JOY AS MOTHERGOD'S DIVINE SPIRIT EMBRACED THEM AND LOVED THEM AS A MOTHER WOULD FOR HER CHILD. IT WAS AN HONOR TO BE AT RASA'S SIDE DURING ALL OF THIS, I FELT SO INSIGNIFICANT TO BE IN THE GLORIOUS PRESENCE OF SUCH A POWERFUL WOMAN. I SEEN TRUE CHANGE COMING, LIVES WERE FOREVER CHANGED. THIS IS THE GOAL ALL OF US SHOULD BE WORKING TOWARD; YOU WILL NEVER KNOW THE TRUE PEACE AND JOY OF TRULY LIVING UNTIL YOU ACCEPT THE FACT THAT WOMEN ARE THE NATURALLY SUPERIOR GENDER AND THAT YOUR PLACE IN LIFE IS OFFERING YOURSELF AS THEIR SERVANTS. I SPEAK FROM PERSONAL KNOWLEDGE IN THIS AREA AS THIS HAS HAPPENED TO ME.

I SERVE RASA WITH ALL MY HEART, SOUL, MIND AND SPIRIT. SHE IS MY SPIRITUAL MOTHER AND MASTER. SHE AWAITS YOU WITH OPEN ARMS, EMBRACE HER TRUTH AND TEACHINGS FOR YOU KNOW DEEP INSIDE THEY ARE RIGHT. YOU HAVE A HUNGER WITHIN YOU FOR A MOTHER, ONE WHO WILL NURTURE AND PROTECT YOU. TAKE YOUR PLACE AT HER FEET AND BEGIN TO REALLY LIVE. EMBARK UPON THIS JOURNEY WITH ME, THE JOURNEY TO WHOLENESS AND UNITY WITH MOTHERGOD. MAY MOTHERGOD BLESS YOU ON THIS DAY AND BLESS YOU AS YOU MAKE THE MOST IMPORTANT DECISION YOU WILL EVER MAKE IN YOUR LIFE. BECOME HER DEVOTED SERVANT AND SHE WILL TEACH YOU ABOUT LIFE AND THEN SPIRITUAL AWAKENING WITH OCCUR WITHIN YOU. MOTHERGOD IS LIFE, SHE IS GOD AND SHE IS ETERNAL. THROUGH HER IS REAL SALVATION. I LOVE AND HONOR THEE, MASTER RASA. THANK YOU FOR ACCEPTING ME INTO THY SERVICE.
---

RASA IS MOTHERGOD
By RICK HODGE, June 26TH 2005
I want to share with you some thoughts. I spoke to GURURASA on Friday night and it was a very humbling experience to speak with such an Anointed Leader. SHE HAS SUCH POWER SURROUNDING HER, SHE IS MY GOD AND I FEEL HONORED TO SIT AT HER FEET SPIRITUALLY AND LEARN FROM THIS WONDERFUL WOMAN. AFTER WE HAD TALKED AND SAID GOODNIGHT, I CLOSED MY EYES AND PRAYED. I EMPTIED ALL THE JUNK THAT WAS INSIDE OF ME THROUGH YEARS OF FUNDAMENTALIST CHRISTIAN PROGRAMMING AND PATRIARCHAL LIES AND EMBRACED THE TRUTH AND FREEDOM OF MATRIARCHY AND MOTHERGOD. I FELT CLEAN AND WHOLE FOR THE VERY FIRST TIME IN MY LIFE, LIKE NOW THERE WAS A PURPOSE TO MY LIFE. I WAS MEANT TO DO SOMETHING FOR THE BETTERMENT OF MANKIND THE WORLD OVER. LISTEN TO RASA'S WORDS; MEDITATE UPON THEM AND OPEN YOUR HEARTS, MINDS, AND SOULS TO HER MESSAGE; THIS CHURCH IS BUILT UPON LOVE, THE LOVE RASA HAS FOR HER CHILDREN WHO COME TO LEARN THE TRUTH AND HOW TO APPLY THESE TRUTHS TO YOUR EVERYDAY LIVES. I FOR SURE HAVE FELT SUCH A DIFFERENCE SINCE I GAVE MY LIFE TO HER AND DEVOTED MYSELF TO HER TEACHINGS. RASA, I HONOR AND WORSHIP YOU. YOU ARE MY SPIRITUAL MOTHER AND YOU FILL MY SOUL WITH A PEACE THAT THIS WORLD DOES NOT HAVE. THE WORLD DOES NOT HAVE THIS BECAUSE THEY ARE ENTRENCHED IN THE LIE THAT MAN IS SUPPOSED TO BE DOMINANT OVER WOMEN AND CONTROL THEM THROUGH FEAR AND INTIMIDATION, EVEN VIOLENCE. THIS IS A TRAGEDY AND IT IS MY SINCERE HOPE AND PRAYER THAT MANKIND WILL REALIZE AND BE SHOWN FROM MOTHERGOD THE TRUTH OF FEMALE SUPREMACY. THIS IS NOT AT ALL ABOUT SEX, NOT FOR ME ANYWAY. I DO NOT CLAIM TO BE MORE SPIRITUALLY MINDED THAN ANYONE ELSE, I SEE THE ISSUE OF FEMALE SUPREMACY AS BEING SPIRITUAL. IT NEEDS TO BE SPIRITUAL OR IT MEANS A GAME OR A ROLE-PLAYING SCENE. TOO MANY PEOPLE THINK OF THIS ISSUE AS THAT, BUT THEY ARE SO WRONG AND MISSING THE POINT ENTIRELY. I BELIEVE THE NATURAL ORDER OF THINGS HAS ALWAYS BEEN WITH THE WOMAN FIRST IN ALL THINGS. TRUE HARMONY WITH NATURE AND WITHIN YOUR LIFE WILL BLOSSOM LIKE A PRECIOUS ROSE WHEN YOU ACCEPT THE TRUTH AND REALITY OF THIS. I PRAY THIS MAY BE AN ENCOURAGEMENT TO ALL OF THE DEVOTEES. LISTEN TO MOTHERGOD, REACH OUT AND ACCEPT GURURASA AS MOTHERGOD, FEEL THE MOTHERGOD THROUGH HER AND HER LOVING NATURE. IT WILL CHANGE YOUR LIFE AS IT HAS MINE.
---
ADVICE TO DEVOTEES
IT PAYS TO GIVE TO MOTHERGOD
JULY 30TH 2005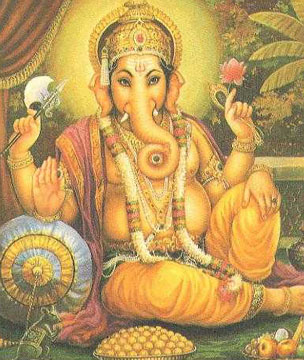 GANESH, THE HINDU GOD OF PROSPERITY
DEAR MOTHERGOD,
I AM LOOKING FOR A NEW JOB, AS MY EMPLOYER HAS CUT MY HOURS DOWN A WHOLE LOT. I INTEND TO SEND IN A MONETARY PLEDGE MOTHER, I AM JUST HAVING A HARD TIME FINANCIALLY RIGHT NOW. I DO LOVE YOU AND I PRAY TO YOU EVERYDAY. I WORSHIP YOU, FOR I KNOW THOU ART GOD. THIS IS HOW I PERSONALLY FEEL ABOUT YOU. I AM SURE YOU ARE FEELING PAIN AND MY HEART ACHES FOR YOU BECAUSE OF THIS. MOTHER, I AM REAL AND I BELIEVE IN MATRIARCHY WITH ALL MY HEART, SOUL, AND MIND. I ALSO BELIEVE YOU ARE THE ONE WHO HAS BEEN GIVEN THE POWER TO MAKE MATRIARCHY A REALITY IN THIS DAY AND AGE. IT IS SORELY NEEDED. MEN HAVE DESTROYED THIS WORLD WITH PATRIARCHY AND THE LIES OF SATAN. I FEEL TERRIBLE BECAUSE I AM ALSO A MAN, YET I HAVE REJECTED PATRIARCHY BECAUSE I KNOW IT IS A LIE FROM HELL. I AM REALLY SORRY I HAVE NOT BEEN POSTING, I GUESS I FELT LIKE BECAUSE OF MY SITUATION I WASN'T NEEDED OR WANTED. I DO NOT BELIEVE THOUGH IN MY HEART OF HEARTS THAT THIS IS TRUE IN ANY MANNER. SO I AM KNEELING RIGHT NOW WITH MY WIRELESS KEYBOARD AND TYPING THIS TO THEE. HAIL MOTHERGOD RASA, MY SALVATION AND STRENGTH. I LOVE YOU, MOTHER. I PRAY EVERYTHING IS ALRIGHT. HAIL MARY, THE GREAT GODDESS AND MOTHER OF CREATION.

RESPONSE FROM RASA
DEAREST RICK,
THESE ARE FINE WORDS. NOW I WILL VERBALLY SPANK YOU FOR NOT COMING THROUGH IN THE PAST, AND THE KARMA YOU ARE SUFFERING NOW IS A RESULT OF IT. IN OTHER WORDS, YOU HAD FINE WORDS BEFORE AND YOU PLEDGED YOUR LOVE AND SUPPORT, BUT YOU DID NOT COME THROUGH. I GAVE YOU MY LIGHT AND LOVE AND TIME, BUT YOU DID NOT DONATE OR HELP. WHAT YOU DID WAS MINOR IN ASKING ONE SEARCH ENGINE TO CONTACT ME, AND MY PAID WEBMAN DID THE WORK. YOU SAID YOU WOULD PAY FOR A SEARCH ENGINE TO PUT ME ON TOP, BUT YOU DID NOT DO IT. (THAT PART WAS OK) THE OTHER THING, WHEN I WROTE MY STERN LETTER CONCERNING DONATING AND VOLUNTEERING (BECAUSE I WAS SICK OF THE GUYS NOT HELPING) INSTEAD OF COOPERATING AND AT LEAST PLEDGING A DONATION OR ANYTHING, YOU DROPPED OUT FOR A WHILE. NOW WAS I MAD? NO.....WAS NOT. SOME OF THE GUYS SENT IN LETTERS PLEDGING HELP, WHICH WAS A NICE THOUGHT. ONE MAN, BOB, SENT ME A CHECK FOR $80. WHICH THE VERY NEXT DAY AFTER SENDING IT TO ME, GOT IT BACK AT THE CASINO. BUT YOU DISSAPEARED. YOU SENT NO LETTER, NO PLEDGE, NO NOTHING. AFTER A WHLE YOU WROTE NICE LETTERS AGAIN, BUT NO HELP. I WAS GLAD YOU WERE STILL WITH US.

NOW I MUST SPEAK TO ALL OF YOU ABOUT THE PRINCIPLES OF PROSPERITY. THIS WILL BE A KIND OF SMALL ARTICLE.


PRINCIPLES OF PROSPERITY


IF YOU GIVE TO GOD - ESPECIALLY TO THE SPECIFIC PERSON OF GOD WHO IS INSPIRING, HELPING YOU, GOD GIVES YOU BACK TENFOLD, OR EVEN MORE. GOD DOES THIS FOR A REASON - TO REWARD YOUR LOVE. GOD WANTS YOU TO LOVE AND GOD WANTS YOU TO UNDERSTAND THAT WHEN YOU GIVE OUT OF LOVE GOD WILL RETURN TO YOU MANY TIMES. NEVER BE AFRAID TO BE GENEROUS. HAVE FAITH THAT YOU WILL LOSE NOTHING, BUT YOU WILL GAIN MORE. I TELL YOU FROM MY EXPERIENCE AND FROM ALL I HAVE READ, THAT THAT WORKS TOTALLY, PERFECTLY AND ALWAYS AND NEVER FAILS. IF YOU ARE GENEROUS, YOU RECEIVE MORE, AND GOD WILL ALWAYS TAKE CARE OF YOU IN SOMETIMES A MIRACULOUS WAY. BUT YOU MUST GIVE OUT OF LOVE, NOT THE DESIRE TO BE RICH. THE DESIRE TO BE RICH BY GIVING - THAT IS A PERVERSION OF THE PROSPERITY PRINCIPLE. IF ALL YOU DESIRE IS TO BE RICH RATHER THAN RICH WITH GOD, THEN YOU STAY ON A LOWER LEVEL. MANY PEOPLE GET STUCK ON THAT PLANE AND DO NOT REACH ENLIGHTENMENT. NOW YOU SAW THE THREE TESTIMONIES THAT EXPLAINED RIGHT HERE IN THE LAST DAYS, WHEN BOB GAVE GOD GAVE HIM BACK. WHEN KEVIN GAVE, GOD GAVE HIM BACK THROUGH HIS DAUGHTER. AND THE DAUGHTER WON BACK TEN TIMES WHAT SHE GAVE TO MOM AND DAD! AND I TOLD YOU HOW RECENTLY I GAVE $500. TO POOR RELATIONS AND GOD SAVED ME THAT AMOUNT INSTANTLY ON MY TAXES! (AND BELIEVE ME, MORE IS COMING FROM GOD BY YOUR KINDNESS. YOU GET LOVE, AND LOVE INCREASES AND EXPLANDS ALL AROUND, TO MANY PEOPLE!)

BUT OF COURSE, THE OPPOSITE IS TRUE. THAT IS TO SAY, IF YOU DO NOT GIVE, YOU DO NOT GET AN INCREASE. IN FACT, IT IS A GOOD LESSON FROM GOD, THAT WHEN YOU REFUSE TO GIVE, SOME OF WHAT YOU HAVE IS TAKEN AWAY FROM YOU! YOU GET BAD LUCK WITH MONEY WHEN YOU DO NOT GIVE! OR ELSE, YOU JUST STAGNATE AND DON'T GET AHEAD. WHY IS THAT? BECAUSE GOD TEACHES US THAT IT IS NOT A GOOD THING TO SEE YOURSELF IN AN EGOTISTICAL/SEPARATE WAY. WHEN YOU HOLD ON TO THINGS, AND MONEY, AND REFUSE TO SHARE, YOU SEE YOURSELF AS AN ISLAND AND YOU SEE YOURSELF AS LIMITED AND YOU HOLD ONTO SOMETHING BECAUSE YOU THINK THERE WILL BE LESS FOR YOU. YOUR FAITH BECOMES WEAK, YOUR LOVE GROWS SMALL. THIS IS VERY BAD FOR YOUR SOUL. GIVE AND IT SHALL BE GIVEN TO YOU!

PEOPLE WHO REFUSE TO PAY THEIR SHARE WHEN A BUNCH OF PEOPLE GO OUT TOGETHER: THERE WAS A WOMAN LIKE THAT. NEVER PAID HER SHARE OF THE MEALS. AND SHE WAS THE ONE WHOSE PURSE GOT STOLEN! THERE ARE REVERSALS, BAD BILLS, TICKETS, LOSSES, BAD FINANCIAL DECISIONS AND BAD MONEY LUCK, FOR THOSE WHO DO NOT GIVE. THEY SUFFER FOR THEIR STINGINESS! THE UNIVERSE MAKES YOUPAY, ONE WAY OR ANOTHER!

I WAS NOT PLANNING TO PREACH ON THIS SUBJECT, ASSUMING YOU WOULD ALL GIVE GENEROUSLY. HOW WRONG I WAS. HOW WEAK FAITH AND LOVE IS IN SOULS, AND HOW STINGLY PEOPLE ARE. THEY MUST BE TAUGHT, AND I AM THE TEACHER. AND SO, I MUST NOW PREACH PROSPERTY, AS PEOPLE DO NOT UNDERSTAND. I LEARNED FROM THE NUMBER ONE TEACHER ON PROPERITY, CATHERINE PONDER. THE YEAR I LEARNED HER LESSONS, I SENT HER ALMOST $4,000. AT THE END OF THAT YEAR. IN A FEW YEARS, I WAS WEALTHY, EARNING A GREAT DEAL OF MONEY IN MY OWN BUSINESS. MY GIVING MADE ME RICH, JUST LIKE SHE SAID. I DID NOT DO IT FOR THAT REASON - I DID IT FOR THE LOVE OF GOD. I DID NOT HAVE TO SEND HER THAT MONEY, BUT I WANTED TO. SHE WROTE THE BOOKS, I READ THEM AND LEARNED, AND SENT HER MY TITHE. THE NEXT YEAR, I MADE MUCH MORE THAN THE PREVIOUS. THE MORE YOU GIVE, THE MORE YOU GET BACK FROM GOD AND THE UNIVERSE OF OF GOD!

NOW LET ME TELL YOU THIS. I RECEIVE SUCH GOOD WORDS FROM SOME OF YOU GUYS. YOU KNOW WHO YOU ARE. PROMISES. BAIT. IT GOES LIKE THIS, "I PROMISE YOU EVERYTHING GOOD.....ETC."

YOU PROMISE, BUT YOU DON'T DELIVER. YOU THINK YOU CAN FOOL GOD? PUT YOUR MONEY WHERE YOUR MOUTH IS. YOU MUST GIVE TO THE CHURCH BOTH FINANCIALLY AND IN OTHER WAYS. THEN YOU RECEIVE THE LIGHT, LOVE AND POWER OF THE CHURCH. IF YOU GIVE NOTHING BUT E-MAILS AND PHONE CALLS, (WHERE I AM HELPING YOU), YOU ARE REALLY DRAINING THE CHURCH. YOU MAKE ME TIRED. YOU ARE WASTING MY TIME, ENERGY AND YOU ARE DISSAPOINTING ME. AND YOU ARE STAYING BABYISH. DON'T BE A BIG BABY. IF YOU GIVE YOU GROW UP. RESPONSIBILITY IS A SIGN OF MATURITY.

END OF LESSON FOR NOW

NOW RICK, YOU SEE THE RESULT OF NOT GIVING. IS THERE ANYONE ELSE OUT THERE WHO HAS SUFFERED FOR LACK OF GIVING? HUMBLE YOURSELF AND LET ME KNOW. REMEMBER GIVING MAKES YOU GET BACK AND BRINGS YOU GOOD LUCK IN EVERY WAY, AND STINGINESS BRINGS THE OPPOSITE. TEST IT OUT. SEE FOR YOURSELF!
MUCH LOVE,
RASA VON WERDER