JUANA ACHIEVES MYSTICAL UNION WITH GOD & ENLIGHTENMENT AIDED BY GURURASA!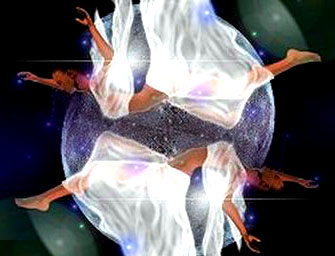 WOW WHEN I GOT MY FIRST FEMALE DEVOTEE I GOT A GREAT ONE!

THE 'DIVINELY INTIMATE' DREAMS AND VISIONS, GIVEN BY GOD, THROUGH THE GURU, ARE AMAZING TO BEHOLD. I NEVER KNEW THAT GOD WOULD MANIFEST THROUGH ME AND APPEAR TO A FEMALE AS A FEMALE AND MAKE LOVE TO HER! I THINK THIS WILL OPEN AND STRETCH OUR BRAINS THAT THERE IS NO GENDER IN LOVE. LOVE IS LOVE, POWER IS POWER, WHATEVER GENDER IS PARTAKING. IN THE ULTIMATE SCHEME OF THINGS, WHAT IS THE DIFFERENCE? WE ARE ALL ONE. ONE HEART, ONE SOUL, ONE MIND, ONE INFINITY, ONE LOVE. THE DIFFERENCE IN GENDERS - MALE TO FEMALE OR WHATEVER ONE PREFERS - IS A PHYSICAL REALITY. IT DOES NOT HAVE TO BE LIMITED TO THE PHYSICAL, DOES IT? IN OTHER WORDS, WITH HETEROSEXUALS, THERE IS PREFERENCE FOR OPPOSITE SEX. BUT THIS OPPOSITE SEX IS ONLY PHYSICAL CHEMICAL ATTRACTION. OF COURSE THERE IS ALSO DIFFERENCE IN BRAIN AND PERSONALITY IN MALE AND FEMALE. BUT STRIPPED OF THE BODY WHAT DO YOU HAVE? YOU HAVE SOUL TO SOUL! SOUL HAS NO 'CHEMISTRY' IN THE KIND THAT MAKES MALE HEAT UP FOR FEMALE OR FEMALE LUST FOR MALE. THE SOUL HAS NO PHYSICAL CHEMICAL ATTRIBUTES, AND THEREFORE, IS NOT LIMITED BY THEM. THIS IS WHAT JUANA IS POINTING OUT, THAT THE GURU THIS TIME APPEARED AS A FEMALE AND MADE LOVE TO HER! THIS IS DIVINE POWER UNDER THE GUISE AND METAPHOR (ALTHOUGH IT IS METAPHOR IT IS AS REAL, OR MORE REAL THAN EARTHLY EXPERIENCE!)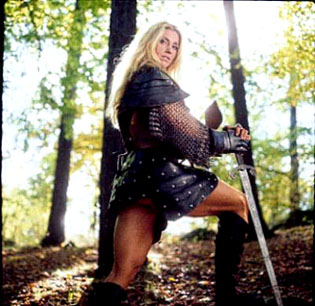 Marikan Johansson

OF JUANA'S EXPERIENCE OF GURURASA. (THIS SURPRIZES RASA AS IT IS UNCONSCIOUS) IT PROVES THAT THERE IS NO GENDER LIMITATION BETWEEN GURU AND DEVOTEE! GURU CAN MANIFEST AS MALE TO THE FEMALE DEVOTEE AND TRANSMIT THE ECSTATIC KISS OF INITIATION! THEN GURU CAN BECOME FEMALE TO THE FEMALE DEVOTEE AND DO ECSTATIC LOVE! THIS IS GOD - NOT THE FLESH.

RASA WONDERS WHY NO MALE WAS ABLE TO RECEIVE SUCH AN EXPERIENCE (ALTHOUGH IT HAPPENED ONCE LONG AGO) WHY WAS A FEMALE ABLE TO RECEIVE SUCH A GRACE BUT NO MALE?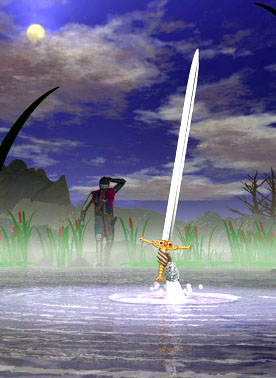 Lady Of The Lake
Ian MacKay

RASA'S CONCLUSION IS THE FOLLOWING: NO MALE HAD THE SPIRITUAL STRENGTH, SO FAR, TO RECEIVE IT. (HOLD ON, MALES, YOU HAVE TIME YET! IT CAN HAPPEN!) THE MALE DEVOTEES HAVE BEEN TOO ABSORBED IN FLESH, NOT ABLE TO LET GO OF ALL OF IT, AND RECEIVED RASA , BUT NOT AS LOVER! AND SO RASA APPEARED AS MOTHER TO MOST OF THEM, BUT NOT AS LOVER. IS LOVER A HIGHER LEVEL? INDEED. IN THE LOVER SCENARIO RASA AND THE DEVOTEE BECOME ONE, WITH NO DIFFERENCE BETWEEN THEM. IN THE MOTHER RELATIONSHIP RASA IS BIGGER, STRONGER, AND THE DEVOTEE IS SMALLER, WEAKER. AND SO IT HAS BEEN A FEMALE WHO WAS ABLE TO HOLD THE POWER TRANSMITTED BY RASA ON THE HIGHEST LEVEL! NO MALE SO FAR WAS STRONG ENOUGH, PURE ENOUGH AND MIGHTY ENOUGH TO BECOME 'AT ONE' WITH RASA! BUT A FEMALE WAS!


CONGRATULATIONS TO THE FEMALE WHO COULD RESPOND AND RISE UP INTO HEAVEN TO WHERE RASA IS - JUANA BRAZILLAH!

RASA AND THIS DEVOTEE ARE ONE, IT IS MYSTICAL MARRIAGE (SEE THE DREAM WHERE RASA PORTENDS IMMINENT MYSTICAL MARRIAGE FOR JUANA!.......):
This dream happened Dec. 9, '05 and her Mystical Marriage occurred Dec. 12, '05
RASA BECOMES A MAN
TO TRANSMIT POWER
TO A FEMALE

BECOMING BLOOD SISTERS!
SPIRITUAL COMMUNION OF JUANA & RASA!

---
JUANA IS NOW TOTALLY ONE WITH GOD THROUGH HER GURU! THE GURU, THE LINK HAS WORKED!
HERE IS THE PROGRESSION AS IT HAPPENED: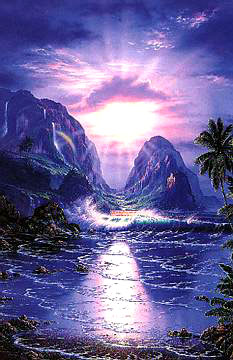 DEC. 6, '05 - JUANA MEETS RASA VIA WEB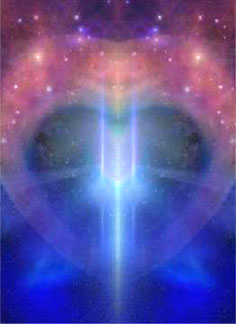 DEC. 7, '05 - JUANA INSTALLS RASA INTO HER HEART AS GURU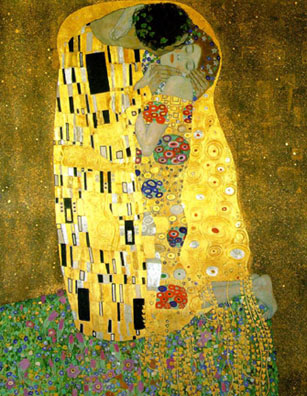 The Kiss
Gustave Klimpt
DEC. 8, '05 - RASA INITIATES JUANA THROUGH A DREAM WITH THE SACRED KISS, (FIRST BECOMING A MAN) AND CALLS HER TO BATTLE FOR RIGHTEOUSNESS
Bride With Fan
Marc Chagall
DEC. 9, '05 - RASA DREAMS OF JUANA AS BRIDE - CLOSE TO MYSTICAL MARRIAGE WITH GOD (MEANS BECOMING ONE WITH GOD)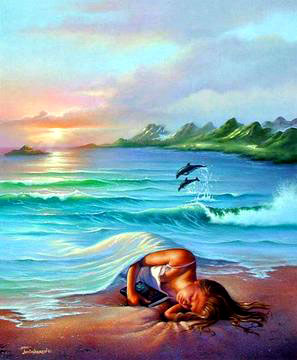 DEC. 9, '05 - JUANA DREAMS OF RASA APPEARING IN THE SKY ON A 'CROCODILE WITH BAT WINGS' AND TAKES JUANA AWAY ON IT. SHE WAS AFRAID AT FIRST, BUT THEN REALIZED SINCE RASA AND 'ANOTHER LADY' WERE ON IT, IT WAS OK. THIS VISION SIGNIFIES FREEDOM!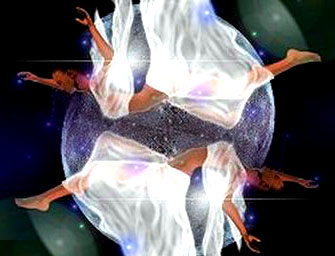 DEC. 12, - 05 - JUANA ACHIEVES MYSTICAL MARRIAGE WITH GOD! (WHICH ALSO HAS AS ITS BY PRODUCT, ENLIGHTENMENT!) GOD APPEARS TO HER THIS TIME AS THE FEMALE RASA, BRINGING THE POWER OF LOVE IN INTIMATE UNION.
COMMENTS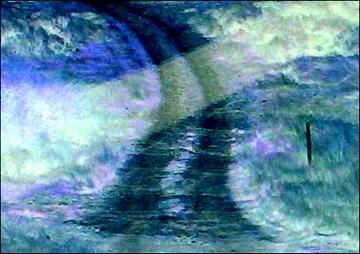 WHAT IS EXTREMELY INTERESTING HERE IS THE MANNER AND METHOD IN WHICH JUANA RECEIVES GOD. AS GURURASA DELIVERS GOD TO HER AND HER TO GOD, IT IS DONE UNDER THE POWER OF LOVE! IT IS THE TRADEMARK OF RASA - THE WAY SHE HERSELF SOUGHT GOD AND ALSO RECEIVED, THROUGH THE LOVE OF SELF SACRIFICE, THROUGH TRUE LOVE.
MANY YOGIS SPEAK OF 'ENLIGHTENMENT' AND SOME PEOPLE THINK THIS HAPPENS OUTSIDE OF THE LOVE PARADIGM, THAT IT IS A MENTAL DISCIPLINE WHICH MEETS ITS GOAL. NOT SO IN THE RASA EXPERIENCE . INTENSE, PERSONAL INTIMATE ENCOUNTERS OF LOVE ARE ALWAYS THE CASE, AND ENLIGHTENMENT IS A RESULT OF LOVE, NOT A GOAL IN ITSELF OUTSIDE OF IT.
DISCUSSIONS ON

---
---