FEBRUARY 19, 2005
PASTOR'S THOUGHTS
NITYANANDA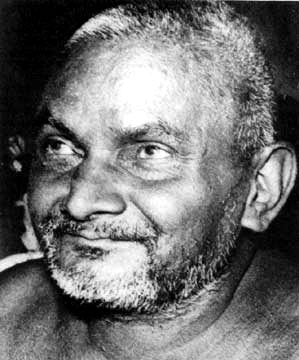 First, a correction on the interpretation of the dream of February 16. It is a LIVING WOMAN and I know her. Yes, it is about abortions - but about the multiple, unrepented abortions she has had. She has also had severe problems with her four children, as the state has taken them away from her. I had no idea this was about her and interpreted the dream as you saw it - but the next day God showed me her again, as in the dream and in real life, and I saw the reality. Indeed, she has carried on as if she is a nice person, even a victim, but I knew about the many abortions and they troubled me deeply. She carries on as if she's never done anything wrong.
I might have guessed it was a person I know - as most of the souls which I have helped save from going to Hell have been present or past friends and acquaintances. This is the first woman in recent years prevented from going to Hell. I am delirious with joy over it! Now I assume the two attendants taking her "to prison" are angels not taking her to the Purgatory on the other side, but the Purgatory of this world. Indeed, I have been shown recently a few times, that for some, life on earth is a Purgatory which is paying for their sins. They are reaping what they have sown, living their karma. Amen to that!
A New Sadhana - The Great Guru of Bliss, Nityananda
I will give you a little taste of what I'm doing now, and then refer you to the yoga page to hear the rest. Recently you've heard me complain about what pain in the necks people have been to me. I needed release from this and felt that the ideal person for me to turn to is someone I know, (in Heaven) but have never done a "sadhana" with. He is the guru of Baba Muktananda, and Baba has spoken of him with the highest regard. I have never turned wholly to Nityananda as I felt in some way I'd be unfaithful to Muktananda. Silly. By turning to one of the Catholic saints does not mean we are being unfaithful to Jesus or Mary. I shored up my confidence by reminding myself of the times, in the last two years, when Nityananda appeared in dreams with Muktananda, Nityananda having a conflict or disagreement with Muktananda, because Muktananda wasn't helping me enough. It was my own fault. I misunderstood the directions of Muktananda and thought he told me to stay with Jesus, but that was not what he said. But I thought he had, so I had not prayed to him for years, nor honored him. Understandably, he wasn't helping me! But I was a lost Siddha, needing their help, in the area of yoga. Nityananda stepped in a few times when I was trying to make some audio tapes defending yoga against Catholics who were tearing it down. He also stepped in at other times. Remembering this, I thought,
"I need a new saint to come close to for this particular problem."
My problem is that I must stay in a place of peace and serenity while dealing with the public. I must stay aloof, with my mind on God, while dealing with people of the flesh and who are not fully evolved yet. The thing I recall most about Nityananda, as Muktananda described him, was that he was a saint, "always in a state of bliss." (Mind you, this does not mean one is in ecstasy all the time. It means that one is, most the the time, aloof and abstracted in the presence of God and nothing of the earth bothers them. Occasionally, Nityananda would get angry and "beat" one of the guys. It's not like you're drugged up and out of it. Things can make you mad. But most of the time, he was in his blissful "trancelike" state.) This was what I needed. Mind you, I have earned the right for such a state, but I have had trouble managing it.
For the rest of this article go to the yoga page under
NITYANANDA SADHANA


Rasa Von Werder
February 19, 2005