RASA TELLS DEVOTEE
WHY WOMEN HATE ONE ANOTHER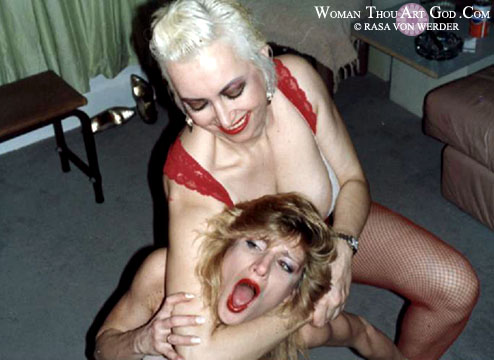 Photo © Rasa Von Werder
RASA'S ANSWER TO A LETTER FROM DEVOTEE STEVE
Good question and let this be an example to others. I am here to bring Light to the world, be it matriarchal or spiritual, so if you do not ask for it, you do not get it.
WOMEN HATE OTHER WOMEN BECAUSE THEY STRUGGLE FOR THE RESOURCES WHICH MEN HAVE STOLEN.
When women gain economic supremacy and basically have the ascendancy, they will stop hating one another. Because they will no longer be competitors (obviously there is always some, but this is minimized, not universal any more) but PARTNERS- LEADERS. It will then be in their interest to cooperate in managing the planet AND MEN (to some degree, but not in the area of femdom, rather manage them so they are constructively oriented, and do less harm.)
It is well noted that the reason men have the advantage in terms of resources is their VIOLENCE AND KILLING THROUGH WAR. (However, I am not a pacifist in the sense of giving up our power and defense; I believe this is needed as if we did not control the world, Muslims would take over, chop off our heads or blow our brains out, and put all women and children into harems. God knows what happens behind closed doors. No, I believe in our strong military.
That being said, I also believe in benevolent leadership, mercy, love and negotiation. War should be avoided when possible. Certainly wars of conquest - are they righteous? Killing people for what they have. But a strong military and defense for us is imperative BECAUSE THERE IS MUCH EVIL OUT THERE AND IT WILL GET US IF WE DO NOT MAINTAIN STRENGTH!
Swinging back to the woman issue, once women get matriarchy put into place across the board, this will be a world of spirituality, godliness, negotiation, adequate care of children. One hopes there will be no extreme poverty, female slavery (or male slavery or animal slavery), child abuse, environmental pollution, and torture of animals. Women will be extremely busy managing the world and will not have time for scratching each other's eyes out any more.
Rasa Von Werder
March 6, 2006