THE FEMDOM FANTASIES OF MEN
WILL THEY LEAD TO MATRIARCHY?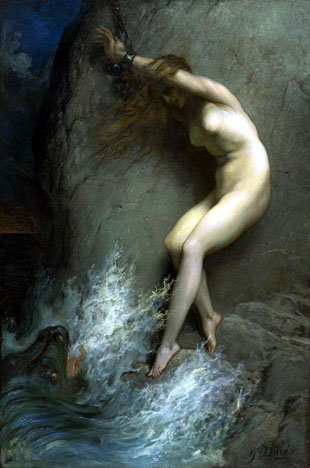 Andromeda
Gustave Dore
WILLIAM BOND POSES THIS QUESTION & RASA ANSWERS
In all of human history, anything that has benefited our world was once a fantasy or dream in the minds of people. And to make these dreams and fantasies reality has never been easy.
For instance for hundreds of years many men have had fantasies of flying. Which conventional science said even as late as 1900, was totally impossible. Yet amateurs like the Wright brothers and many other unsung aviation pioneers persisted in trying to make this fantasy a reality. Many of these first aviators were killed in their rickety machines,
RASA: ARE YOU EQUATING THE FEMDOM MEN OF TODAY WITH THE RICKETY FLYING MACHINES OF YESTERDAY? MAYBE IT'S A GOOD COMPARISON?
...but because of them, flight today is common place.
RASA: EXCEPT BECAUSE OF THEM, MATRIARCHY WILL NOT COME INTO EXISTENCE. BECAUSE OF THESE MEN, MATRIARCHY WILL NOT BE HAPPENING. IT WILL BE BECAUSE OF OTHER FACTORS - NOT THEM.
The same is true with democracy. Democracy was first tried out in Ancient Greece and Rome and totally failed, and was forgotten as a unrealistic fantasy. Yet four hundred years ago it was tried again
in places like Switzerland, England, France and USA. And with a lot of hard work, blood-shed and intellectual import from many intelligent men. It was made to work.
RASA: IT SEEMS TO ME WE WILL ALSO SPILL A LOT OF BLOOD BEFORE WE CAN MAKE SOMETHING OUT OF THE FEMDOM MEN.
The same is true of the Matriarchal dream.
Yes, in the minds of many men the Matriarchal dream is no more than a Femdom sexual fantasy.
RASA: INDEED, BUT THESE FANTASIES WILL NOT LEAD TO MATRIARCHY. THESE FANTASIES ONLY LIVE OFF THE WORK OF WOMEN, AND WOMEN EITHER PROVIDE THESE SERVICES FOR FREE, TRADE OR PAY. BUT IT IS WORK. THIS DOES NOT LEAD TO MATRIARCHY. THE PART YOU HAVE RIGHT IS THAT MEN WHO FANTASIZE AFTER DOMINANT WOMEN WILL HAVE THEIR FANTASIES FULFILLED WHEN MATRIARCHY IS ESTABLISHED, ALBEIT MAYBE NOT THEIR MOST LURID FANTASIES. FOR THAT THEY WILL PROBABLY STILL HAVE TO GO TO DOMINATRIXES. THE SUCCESSFUL WIVES OF THE FUTURE ARE NOT GOING TO TOLERATE THE SILLINESS AND EXHAUSTION OF FEMDOM 'PLAY'.
And when some of these men try to make the fantasy a reality they totally fail, because they haven't thought it through.
RASA: THE REASON THEY FAIL IS BECAUSE THEY ARE (FOR THE MOST PART, NOT YOU WILLIAM, BUT MOST OF THEM) THINKING OF THEIR OWN INTERESTS, NOT THE INTERESTS OF WOMEN. ISN'T THAT OBVIOUS? THEY ARE LOOKING FOR A WAY TO GET OFF. JUST LIKE THE PATRIARCHAL MEN.
So when they met a genuine Dominant Women they either runaway or try to make her conform to their fantasies.
RASA: RUN AWAY PERHAPS. CONFORM, USUALLY, IF THEY HAVE THE COURAGE. YOU DO NOT SEE IT FROM THE WOMAN'S POINT OF VIEW. MEN CANNOT CREATE MATRIARCHY. MEN CREATED PATRIARCHY, A THOROUGHLY EVIL CULTURE. THE REASON MATRIARCHY IS COMING BACK IS BECAUSE OF GOD, THE UNIVERSE. IT IS COMING IN SLOWLY BUT SURELY. METAPHORICALLY SPEAKING, THE EARTH BEGAN TO GROAN OUT IN PAIN, THE BLOOD OF WOMEN CRIED OUT IN PAIN FROM THE BOWELS OF THE EARTH. THE PRAYERS OF THOUSANDS OF YEARS OF ABUSED CHILDREN, WOMEN AND MEN, FINALLY REACHED OUR MAKER AND WERE REWARDED. GOD PUT INTO EFFECT CONDITIONS THAT WOULD REVERSE MALE RULERSHIP AND BEGIN TO SWING TO THE OTHER SIDE. THIS IS THE GRACE OF GOD, MAKE NO MISTAKE. THIS IS NOT THE SEX FANTASIES OF MEN EMPOWERING THE CHANGE. ON MY SITE IS THE VISION OF THAT SPIRITUAL MIRACLE, CREATED BY GOD TO SAVE MANKIND FROM PATRIARCHY. I EXPLAIN IT AS CIVILIZATION CREATING TECHNOLOGY, WHICH MAKES MEN REDUNDANT, AND THE DEMISE OF PATRIARCHY BEGINS.
PLEASE SEE:
But we have to expect this, in turning a dream into a reality. Like with the early aviators, many of the flying machines that were built were totally impractical and dangerous, as many early aviators were killed fly these machines. Yet they learnt from their mistakes, to make flying safe and practical.
We cannot expect people to get it right first time. We have to allow people to make mistakes and get it completely wrong. But the important thing is we have to learned from these mistakes and share knowledge with each other.
Democracy failed in Ancient Greece and Rome because they did make big mistakes and got it completely wrong. But the pioneers of democracy in modern times learn from the mistakes the Ancient Greeks and Romans made, and make democracy possible.
Life is better for us all, because some people have dared to turn their dreams and fantasies into reality. But the fantasies and dreams have to be worked at, thought through, tested in reality, to see what works. Yes, we are all going to make mistakes and have bitter disagreements about what it the best way forward. But this happens every time when people attempt to make their dreams a reality.
Yes the many of the men with FemDom sexual fantasies are getting it completely wrong. But the important thing is that they do have a dream of a world dominated by Women.
RASA: I DON'T MIND THE DREAMING PART. BUT WHEN I HAVE TO LISTEN TO THEIR DAM FANTASIES I OBJECT. THEIR FANTASIES ARE NOT PLEASANT AND THEY ARE NOT ABOUT EMPOWERING WOMEN, WILLIAM. THEY ARE ABOUT GETTING ERECTIONS AND HAVING ORGASMS. THIS IS NOT EMPOWERING OR PLEASANT TO MY EARS.
And it is far better they have FemDom fantasies rather then male Supremacy fantasies.
RASA: HOW ABOUT NO SEX FANTASIES? HOW ABOUT JUST LETTING WOMEN HAVE EMPOWERMENT AND FORGET ABOUT SEX? HOW ABOUT WOMEN JUST FEELING FREE AND HAPPY AND STOP HARRASSING THEM FOR SEX? WOULDN'T THAT BE PARADISE? ONE OF THE MOST DISGUSTING AND SICKINGING THINGS FOR WOMEN AND CHILDREN IS THAT MEN CANNOT STOP WITH THE FANTASIES. AND THEY DON'T JUST STAY IN THEIR HEADS, THEY WANT TO GET THEIR HANDS ON CHILDREN AND WOMEN ALL THE TIME. WHY DON'T THEY LEAVE US ALONE?
So to my mind, they need to be encouraged and educated in how to turn their fantasies into reality.
RASA: THE UNIVERSE WILL SOON ENCOURAGE AND EDUCATE MEN TO THINK STRAIGHT AND ACT RIGHT. AS SOON AS WOMEN ARE EARNING, ALL OVER THE WORLD, MORE MONEY THAN MEN, THAT WILL MOTIVATE MEN TO BEHAVE.
WHEN THE JUDICIAL JUSTICE SYSTEM PUTS MEN AWAY FOR CRIMES AGAINST WOMEN AND CHILDREN, THAT WILL TEACH THEM. WHEN THEY ARE CASTRATED (NOT JUST CHEMICALLY) FOR SEX CRIMES THEY WILL BE ENLIGHTENED.
WHEN THE STREETS ARE FILLED WITH POLICE THAT STOP MEN FROM HARRASSING WOMEN, AND WOMEN CAN GO OUT DAY AND NIGHT WITHOUT FEAR, THEN MEN WILL BEHAVE.
WHEN WOMEN ARE ENCOURAGED TO CARRY WEAPONS (IT HAS TO BE LEGAL) AND KNOW HOW TO USE THEM MEN WILL LEARN TO BE NICE.
WHEN MEN SEE THAT GOD IS A WOMAN, AND ALL THE TEMPLES AND CHURCHES TO A MOTHERGOD ARE EVERYWHERE, AND THEY LEARN TO BEND THE KNEE TO MOTHERGOD, THEN THEY WILL TRULY LEARN.