QUESTIONS ON FEMDOM & MATRIARCHY
BEATA & RASA DISCUSSION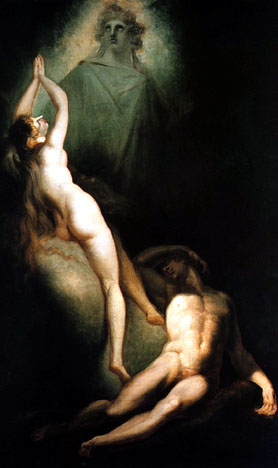 The Creation of Eve
Henry Fuseli
BEATA'S RESPONSES TO AN ARTICLE FROM RASA
RASA FURTHER CLARIFIES IN RED ITALICS

RASA: Some of my lady friends are catering to, or at least, warmly tolerating these men, feeling that from this group a worthy catch can be made; the ideal man we powerful ones are seeking; that obedient, giving man who will supply our needs. The femdom guy sounds like he hits the spot. Look at all the things he says! He sounds too good to be true. If only half of what he says is right, he should be ok.


BEATA: I don't like to stereotype men...
SORRY, I DID NOT STEREOTYPE THEM. I NEVER SAID 'ALL' ARE OR 'ALL' AREN'T. SPEAKING IN GENERAL AND I THOUGHT THAT WAS CLEAR.
...who seek dominant women. I know that some of these so-called submissive men are big time manipulators, but it is up to each women to screen out these men for sincerity and compatibility.
I AM NOT FORCING ANY WOMAN TO DO ANYTHING. I AM THE VOICE OF EXPERIENCE AND GIVING THE BENEFIT OF THIS EXPERIENCE. WHAT I HAVE LIVED THROUGH.


RASA: Now I am going to appeal to women to hear me out, and trust my experience. Although all logic says, 'They are right for matriarchy', I will tell you from experience that they are not. Or at least, no more so than regular guys. Matter of fact, I would wager by a margin you could find a better guy in the 'real world.'


BEATA: I know exactly what you mean. But all men have a propensity to be submissive as they have this seed planted in them from birth and it is reinforced by female authority figures in childhood. Some men who are into femdom will not make suitable partners for a woman just like regular men. But this does not mean that they should be marginalized or stigmatized...
THAT IS NOT WHAT I AM DOING. I AM SIMPLY TELLING YOU WHAT HAPPENS FROM EXPERIENCE. IT IS NOT TO STIGMATIZE THEM, IT IS FOR WOMEN TO BE AWARE OF WHAT HAPPENS AND NOT PUT SO MUCH HOPE IN THEM NOR WASTE TOO MUCH TIME. I AM DOING THIS FOR THE BENEFIT OF THE WOMEN WHO MUST RULE THE WORLD. THE WRONG GUYS ARE LIKE BARNACLES ON A SHIP OR REMORAS ON A WHALE. TOO MUCH TIME WITH THEM CAN SLOW YOU DOWN, NOT TO MENTION WAYLAY, DISAPPOINT, FRUSTRATE AND MADDEN ONE.
...for their sexual preferences. Rather they should be judged based on the merits of their conduct just like any other man. For now, these femdom men are at least interested in Matriarchy.
THEY SAY THEY ARE. I WOULD LIKE TO SEE IF YOUR OPINION CHANGES IN TIME, BEATA. SIX MONTHS, A YEAR FROM NOW I WOULD LOVE TO SEE HOW EXPERIENCE MIGHT CHANGE YOUR OPINION. I AM WAITING WITH BAITED BREATH. ALREADY THEY HAVE FOR THE SECOND TIME INVADED MY WTAG SITE, AND THEY ARE USING UP PRECIOUS TIME OF MINE THERE, PRESENTING THEIR USUAL MASQUERADE.
Perhaps this is a process for some of them where they will be able to evolve into a deeper understanding of what it means to serve the interests of women and children primarily but in addition to their own needs.


RASA: I have learned this: Those men who are aggressively seeking to be dominated have a Pandora Box of needs, fetishes, fixations and desires that you might not want to face on a regular basis. These guys have raging sex needs, even moreso than the average guy. Men in general (as even women) have problems, but these guys have problems on top of problems. They need therapy, role playing, theatrical productions, fetish playout, and extreme attention. They do not want 'regular, normal sex.' They want things unusual, which are difficult to play out. Most of these men do not need a wife, they need a professional domme or mistress. Some of them have wives or long-time girlfriends, but they go elsewhere for their needs. They just don't have the guts to bring their strange desires to the little lady - with good reason. Usually, she can't wait to get a divorce or send him to a psychiatrist (this happened to some of the guys I knew in the scene.) Few regular women would put up with it. The men who are in the game are so needy, so very needy, they make ordinary guys, (who are sex pigs without a doubt) look like schoolboys!

BEATA: What constitutes normal in terms of human sexuality is varied and broad. The reason why many of these men hide their masochistic desires from their wives and girlfriends is out of fear of not being understood, and also because some of their fantasies could not be realistically practiced in a relationship. However, how can these men feel comfortable with their sexual desires when society has programmed both women and men to believe that such expressions of sexuality are pathological? This would only reinforce the need for secrecy and feelings of shame in the male. Times are changing and with more education and awareness femdom is being brought into the mainstream which will normalize alternative sexual practices.
SOMEHOW BEATA YOU THINK THAT I AM TRYING TO HURT THESE POOR MEN. AGAIN, YOU ARE DOING WHAT SOCIETY DOES INCESSANTLY - SEE IT ALL FROM THEIR PERSPECTIVE. SO YOU ARE DEFENDING THEM. WHO DID I WRITE THIS ARTICLE FOR, THE MEN? NO, IT WAS WRITTEN FOR THE MATRIARCHAL WOMEN WHO ARE SEEKING A MALE WHO WOULD BE COMPATIBLE. YOU ARE FEELING SORRY FOR THESE FEMDOM MEN AND NOW WE THE MATRIARCHAL WOMEN HAVE TO DO THIS AND THAT TO MAKE THEM COMFORTABLE, TO HELP THEM. ALWAYS THE MAN. ALWAYS MAKE SURE HE IS ALRIGHT, NOT HURT. MAKE SURE HE IS NOT MARGINALIZED. MAKE SURE HE IS TAKEN CARE OF. NO PREJUDICE TO HIM. THE MAN, THE MAN THE MAN. CAN YOU NOT SEE THIS IS WHAT YOU ARE DOING?
I AM WRITING FOR THE WOMAN, THE WOMAN, THE WOMAN. WE ARE NOW AT A BASELINE OF WHERE WE MUST GO, TO THIS OR THAT POINT. THE POINT IS MATRIARCHY AND WOMAN - HOW WILL WOMEN GET THERE? AND I AM TELLING YOU, THEY WILL NOT GET THERE WITH THESE REMORAS. YOU ARE DEFENDING THE MEN WHICH IS BUSINESS AS USUAL. I BELIEVE, AT BASE, IT IS BECAUSE YOU DISAGREE WITH ME. YOU SOULFULLY BELIEVE THAT THE IDEAL MATE WILL COME OUT OF FEMDOM. YOU HAVE A RIGHT TO THIS, GOOD LUCK, AND YOU WILL SEE BY EXPERIENCE. MAYBE YOU WILL BE THE LUCKY ONE WHO WILL INDEED FIND A GOOD GUY FROM THERE. I NEVER HAVE. I HAVE FOUND A COUPLE FRIENDS, BUT NEVER MET A MAN WHO WOULD BE A GOOD MATE OR PARTNER OR HUSBAND FROM THE FEMDOM WORLD.


RASA: My advise is to cast a wide net, when looking for a man, and make sure that net includes the regular world. If I had to guess where you could find a decent guy I would put it like so: 75% of all men in femdom are inappropriate for matriarchal mates, and maybe 60% of the 'regulars' are unfit. There is more of a chance finding a 'relaxing'
I USED THAT WORD 'RELAXING' FOR A REASON. IN THE ARTICLE ON 'FUTURE OF MALE-FEMALE RELATIONSHIPS'
ON SITE, I TALK ABOUT THE NEED FOR WOMEN TO RELAX. IN OUR FUTURE WORLD, WITH WOMEN OUTSTRIPPING MEN IN EDUCATION, GETTING 200,000 MORE DEGREES THAN MEN YEARLY (IN FIVE YEARS ONE MILLION MORE DEGREES FEMME DEGREES AROUND TAKING JOBS) THE SHIFT WILL GO FROM MEN HOLDING THE BEST PAYING JOBS, THE MOST RESPONSIBLE JOBS, TO THE SHOES ON THE WOMAN. NOW THE WOMAN WILL BE THE BIG BREADWINNER AND HARD, RESPONSIBLE JOB WHERE MANY DECISIONS ARE AT STAKE. SHE BRINGS HOME THE BIG BACON, THE LITTLE MAN WILL BRING HOME PEANUTS COMPARED TO HER. THIS WILL NOT HAPPEN INSTANTLY, BUT OVER YEARS.
(I DID PREDICT HERE THAT CHILDCARE WILL NOT BE LEFT IN THE HANDS OF MEN FOR WHAT IS BECOMING OBVIOUS REASONS; MOLESTATION AND AT BEST, LACK OF COMPETENCY.)
NOW THE WOMAN WHO HAS THIS HARD, WELL PAYING JOB WILL NEED A RELAXING, NOT A DEMANDING MALE TO COME HOME TO. SHE DOES NOT NEED A BIG BABY WITH INFANTILE NEEDS WHO DEMANDS SHE TURN INTO A DOMME WHEN SHE COMES HOME AT NIGHT! I WAS A DOMME, AND YOU GET PAID BIG MONEY BECAUSE IT IS LABOR INTENSIVE. THIS IS NOT WHAT THE POWERFUL WOMAN OF THE FUTURE WILL BE WILLING TO DO. SHE WILL NEED A MUCH MORE TOGETHER MALE WHO WILL BE WILLING TO IN SOME DEGREE, SURRENDER TO HER NEEDS, WHICH ARE NOT ALWAYS SEXUAL.
IT IS A MALE FANTASY THAT WOMEN ARE RAGING SEX FREAKS JUST AS THEY ARE. WE HAVE BEEN FEEDING THEIR FANTASIES FOR THOUSANDS OF YEARS. WOMEN IN SOME CASES, JUST WANT TO BE LEFT ALONE. THEY WANT TO READ THE PAPER, DO THE INTERNET, WATCH TV, AND HAVE SOMEONE FETCH AND CARRY FOR THEM. SEND JOHN HUBBY TO THE STORE FOR GROCERIES, HAVE HIM MAKE DINNER AND KEEP THE HOUSE CLEAN.
BUT TO HAVE THIS RAGING SEX FREAK WANT YOU TO DRESS HIM UP AS A GIRL AND POP HIM UP THE CAN WITH A DILDOE MIGHT NOT BE WHAT MZ CEO WANTS TO DO AT NIGHT FOR RELAXATION.
IF SHE HAS SUCH A GUY, SHE MIGHT PREFER TO SEND HIM TO A DOMME. BUT IF SHE HAS TO DO THAT TO MAKE HIM HAPPY, IS HE REALLY A GOOD HUSBAND? THIS IS WHAT I AM SAYING. THE NEW MAN WILL BE NEITHER THE TYPICAL 'REGULAR' GUY NOR WILL HE BE THE RAGING FEMDOM MAN - I DEFINED WHAT THIS MAN WOULD BE IN GENERAL TERMS, IN THE ARTICLE OF FUTURE OF MALE FEMALE RELATIONSHIPS ON MY SITE:
THIS NEW MAN WILL BE CHARMING AND HAVE SOCIAL SKILLS MEN DON'T HAVE TODAY. HE WILL BE ARTICULATE AND WELL VERSED IN THE HUMANITIES AND SUBJECTS OF INTEREST TO WOMEN. NO HE WILL NOT BE A GAY BLADE, TALKING ABOUT DECORATING AND RECIPES, BUT HE WILL BE A CONVERSATIONALIST AND LISTENING. SOMETHING MEN ARE WOEFULLY SHORT ON RIGHT NOW. NO 'STRONG SILENT' TYPES NEED APPLY BECAUSE WOMEN NEED COMPANIONSHIP. THE BEST COMPANIONS, THE MOST COMPETENT AT SUPPORT AND BACKGROUND WORK, WILL BE THE FUTURE IDEAL HUSBAND.
HEY, IT ISN'T ABOUT SEX! THE OBSESSION WITH SEX IS THE MALE PROBLEM, NOT THE FEMALE'S. STUDIES HAVE SHOWN THAT FEMALES PRETEND TO BE 'IN ESTRUS' TO KEEP THE MALE HUMAN INTERESTED 24/7 AND THERE IS A REASON FOR THAT. DOES NOT TAKE A ROCKET SCIENTIST TO FIGURE OUT THAT IN THE PATRIARCHAL WORLD WE HAVE TO BAIT HIM BY SEX. IN A DIFFERENT WORLD, WE CAN STOP PRETENDING.
...and therefore appropriate male in the regular world than femdom.........The femdom men, once they get you alone, and live with you day in day out, would make you want to kill yourself, if you know what I mean.


BEATA: The woman is instrumental in driving the evolution of society in a Modern Matriarchy. So women will socialize men to a great degree especially in relationships. Relationships are the foundation of every social institution. Femdom should never be the foundation of a relationship because such a relationship would not work. But it certainly has a place in Matriarchy and with the ascendancy of female leadership in the society, the male's submissive desires will be triggered more as he becomes more in tune with and aroused by powerful women.
LET US DEFINE FEMDOM. MEN IN THE FUTURE WILL ACCEPT DOMINATION AS NATURE. WHAT I AM OBJECTING TO AND SAYING IS COUNTER PRODUCTIVE IS THEIR ELABORATE SEXUAL SCENARIOS. ARE WE ON THE SAME PAGE?


RASA: It all comes down to this: need. Men in general are immature, weak and needy compared to women. But those in the domination scene are even needier, and many are passive-aggressive. They are demanding and that is the opposite of what you want! And if you think you can ignore their needs, think again. They become sullen, moody, depressed and totally uncooperative and if the needs are not met! They cannot function without their outlet. Some are fixated in childhood scenarios or pre-puberty, playing out fixations again and again. Others have compulsions with their fetishes, which they manage to hide, which would now be your responsibility. If you think, and believe, that those ads they write are for real, then I'll sell you a bridge. By 'intelligent, educated, docile male' seeking 'dominant woman to serve' really means,


BEATA: I have encountered such men. This is self-sabatoging behavior and may be indicative of an emotional and social deficit related to childhood and it is not relegated to just men with conscious masochistic desires either. But the bottom line is that women are pivotal to men overcoming these issues.
AGAIN, WOMAN AS NURTURER. DO YOU HAVE TIME FOR ALL THIS? DO YOU WANT TO BE HIS NURSE, THERAPIST AND SOCIAL WORKER? I DON'T. I AM SIMPLY SAYING THESE WHO ARE THE MOST NEEDY YOU WILL HAVE TO OVERLOOK AND KEEP MOVING TO THE ONES WHO ARE TOGETHER, TO SAVE ALL THAT WORK YOU HAVE TO DO ON THE BROKEN. BEATA, YOU ARE SAYING WE HAVE TO TAKE CARE OF THESE GUYS, ONCE AGAIN. WOMEN FOREVER ARE THE CAREGIVERS OF MEN. CAN WE STOP TAKING CARE OF THEM AND TAKE CARE OF OURSELVES AND THE PLANET, AND MOVE ON WITH THE STRONGER MALES? THE PSYCHOLOGICALLY MORE TOGETHER AND BALANCED MALES? SHALL WE BE HOBBLED BY THE SICK, BROKEN, MENTALLY EMOTIONALLY ILL MALES? AND WAIT AROUND FOR THEM TO GET WELL BEFORE WE CAN MOVE ON? NOT THIS LADY AND THAT IS NOT WHAT I WILL TEACH MY GRANDDAUGHTERS AND GREAT GRANDDAUGHTERS.
They cannot be resolved outside of a relationship. This is a good reason then for men to be submissive so that they can be taught how to participate in a relationship and meet the woman's needs and in the process have their needs met too. To the extent that the man is not able to do this he will not be able to develop himself and render himself undesirable to supreme females.


RASA: Dear lady, these men are seeking to 'serve you' in only the most limited way. They just might do for you what any regular man would do, if you serve them as well! It might not be a bargain - THERE IS NO SUCH THING AS A SLAVE! Not only are slaves illegal, they don't exist. Every 'slave' or 'servant' out there will make you pay for whatever they give you, I assure you. Take all that they say with a grain of salt. Unless you are a professional dominant woman, my advise is to forget it.


BEATA: I learned that there is consensual slavery which is not the same thing as enforced slavery, human trafficking is an example. There are male slaves who serve women, but also there are "aspiring" slaves who are seeking to be owned by a woman. The ideal condition of slavery for a male is marriage in my opinion or some other legal contract. In any case, some men may fit better in an Amazonian Matriarchal community or a sanctuary rather than in a regular bonded relationship or marriage.
I HEARD ALL THESE CLAIMS BEFORE, AND WHEN YOU TEST THESE MEN OUT - NO SUCH THING. HOW MANY OF THESE 'SLAVES' HAVE YOU TESTED? THEY ARE EXTREMELY NEEDY, DEMANDING MEN MASQUERADING AS SLAVES.


RASA: Well then, who is out there? They are the guys who do NOT put ads in the paper or groups. They are just ordinary men, wishing that some great woman will see or notice them, because they might not be aggressive or macho. They maybe be slightly timid with women, or shy. They might tend to be obedient, or docile, but not sissies or wimps. They could be strong men, but true gentlemen. They would not be the type who DEMAND and AGGRESSIVELY post ads all over the place. They would be more likely to WAIT for a woman to find them, rather than actively seeking one out. Oh yes, they might be around in public, waiting and hoping. But since they do not have the raging sex needs of the 'femdom' guys, they do not solicit aggressively. They are the kind of men who can spend time alone, and might not be the best talkers, the most articulate or charming with women, but they are sincere and have good character traits. That is EXACTLY who you are looking for.


BEATA: I prefer the traditional approach. I do not think that woman should pursue a man at all.
WE WILL HAVE TO GO INTO DEFINITIONS NOW. BUT YOUR STATEMENT WOMEN SHOULD NOT PURSUE MEN GETS AN IMMEDIATE GUT REACTION THAT OF COURSE WOMEN PURSUE MEN ALL THE TIME.
If she is interested in a man, she could flirt to send out a signal of interest and let him take it from there.
THIS IS RESTRICTING THE WOMAN IN HER BAHAVIOR AND EVEN THE MAN, IF ONLY MEN CAN PURSUE, BUT WOMEN CAN ONLY FLIRT TO GET THE BALL ROLLING. THIS IS 1955 AGAIN. WE WERE TOLD THAT IN THE 50'S AND 60'S. 'HE HAS TO CALL' - DO NOT CALL HIM, DO NOT WIN THE GAME AT TENNIS. DEFER TO HIM, LET HIM MAKE THE MOVES, THE DATES, THE CALLS, DO NOT BE AGGRESSIVE.
I feel that it is very important for men to take initiative,
DO YOU HAVE A LOGICAL REASON WHY? IF MEN TAKE THE INITIATIVE, AND NOT WOMEN, THEN IT IS MEN WHO WOULD BE, AT LEAST IN THE BEGINNING, CHOOSING THE WOMEN. WHY ARE YOU RESTRICTING WOMEN? WOMEN DO CHOOSE MEN, ANYWAY, AND THEY ENGAGE THEM IN CONVERSATION, AND THERE IT STARTS. AND IF THE WOMAN WANTS THE GUY, SHE PURSUES HIM BY BEING FRIENDLY AND TALKING MORE, BY ENGAGING HIM IN PERSON, BY PHONE, BY INTERNET. I PUT NO RESTRICTIONS ON THE WOMAN DOING WHAT SHE WANTS TO DO.
...even men who desire to be in female-led relationships. Moreover, culturally speaking, men from other ethnic groups are typically socialized to be the initiators of dating and courtship, and this is a custom that the woman should reinforce because it sets up a dynamic for the male to attend to her needs.
FOR THE MAN TO BE THE PURSUER IS A TRADITION IN PATRIARCHY BECAUSE THE PURSUER MAKES THE CHOICE. SO A PREDATOR IS A PURSUER ALSO. HE DOES NOT WANT AN INTELLIGENT MATURE WOMAN, BUT A LITTLE GIRL. HE PURSUES A LITTLE GIRL. THAT IS HIS CHOICE. PATRIARCHY HAS TAUGHT MEN TO PURSUE BECAUSE THE PURSUER IS THE ONE WHO MAKES THE CHOICE.
A man should be active in pursuing a woman regardless if he is into femdom or not, the woman determines if the male is suitable or not and makes her decision accordingly. This method is consistent with female empowerment under a Modern Matriarchy.
YOU SAID ELSEWHERE THERE WERE MANY MODELS, NOT ONE MODEL OF EMPOWERMENT OR MATRIARCHY, AND NOW, ARE YOU SAYING THERE IS ONE WAY IN RELATIONSHIPS? I AM DISSAPOINTED.
In this instance, the desire for male submissiveness should not be equated with an expectation of passiveness.
AHA. PASSIVENESS IS NOT SOMETHING I AM PROMOTING. BUT WE TALK ABOUT PASSIVENESS, AND OK. YOU SAY NOW MEN SHOULD NOT BE PASSIVE. ARE YOU THEN SAYING WOMEN SHOULD BE? SO IF THE PURSUER IS THE AGGRESSOR AND THE RECEIVER PASSIVE, THEN WOMEN SHOULD BE PASSIVE? HOLD ON TO THE TRADITIONAL ROLE?
The male needs to be active in order to be guided so that his actions are consistent with serving the woman's needs. It is much more work and responsibility for a woman to have to constantly direct a man or tell him what to do.
THIS IS GETTING CONFUSING. DO YOU WANT WOMEN TO HAVE MORE OR LESS WORK? ALL THAT I AM SAYING IN THAT ARTICLE IS WOMEN SHOULD CHOOSE CERTAIN MEN AND WHERE IS THE BEST FIELD OR THEATER OF LIFE WHERE THEY WILL FIND SUCH A MAN - THE ONE WHO WILL SUIT HER NEEDS. YOU SEEM TO BE TAKING THIS ISSUE SOMEWHERE ELSE, LIKE THE ENTIRE WORLD OF SOCIAL RELATIONSHIPS AND WHAT IS GOOD FOR MEN. IN MY OPINION WHAT IS GOOD FOR MEN IS WHAT IS GOOD FOR WOMEN. LET'S CONCENTRATE ON THE WOMAN, I SAY. THE GOODNESS COMING OUT OF RELATIONSHIPS AND SOCIETAL STRUCTURE AS LED BY WOMAN WILL THEN BE PASSED DOWN TO THE BENEFIT OF MEN. MY MIND IS ON THE WOMAN. WHAT IS GOOD FOR THE WOMAN WILL BE GOOD FOR THE MAN. I THINK IF ONE CONCENTRATES ON THIS ONE WILL ARRIVE AT MATRIARCHY.


RASA: We are taking the first steps to matriarchal liberty. Men have to change, women have to change. And you, the woman, mustn't feel guilty. It is better for them if they serve us than for us to serve them. It is as God wants it. And by having a man's support, we can get a lot more done in the world. The world needs us. It's time to stop serving the male and his lower needs. The world cries out for salvation, and this is done by the woman now attending to larger issues.


BEATA: This is true. I think that a fundamental shift needs to occur in female-male relationships. Certainly there are a broad range of methods that women can utilize in order to secure their freedom from the current patriarchal instructions. But this is why we have a Modern Matriarchy movement in place, which is starting to be implemented at the grassroots level.
I WOULD LOVE TO SEE WHERE IS THIS MODERN MATRIARCHAL MOVEMENT? I FIND LITTLE OF IT OUT THERE AND LITTLE SUPPORT, SCANT SISTERHOOD AND PALTRY PARTICIPATION. IT IS OPTIMISTIC TO SAY THERE IS A MOVEMENT WHEN ONE SEEKS FOR IT AND CAN FIND ALMOST NOTHING. ALL I FIND ARE THESE TWO ELEMENTS:
• FEMDOM CENTERED AROUND MALE NEEDS. MALE SEX NEEDS ARE AT BASE, WOMEN'S SAME OLE' NEED FOR MONEY. THEY USE THE WORD MATRIARCHY BUT IT IS A PSEUDONYM FOR FEMDOM. THIS IS NOT MATRIARCHY, IT IS DOMINATION PARLORS.
• ACADEMIC RESEARCH. AGAIN, THIS IS PARALLEL, SIMILAR, BUT THOSE I HAVE CONTACTED ARE NOT ON THE SAME PAGE. THEY ARE NOT PROPOSING MATRAIRCHY AT ALL, JUST HOLDING CONFERENCES ABOUT IT AND HAVE NARROW MINDED STILTED VERSIONS OF IT. I HAVE HAD NO SUCCESS WITH THEM AFTER I REACHED OUT TO THEM.
PLEASE POINT OUT TO ME ANY REAL GRASS ROOTS ORGANIZATIN THAT HAS ANYTHING GOING THAT IS REALLY PRO MATRIARCHY AND NOT DOING FEMDOM FOR MONEY. THE CLOSEST THING I CAN THINK OF ELISE SUTTON, BUT SHE IS WORKING FOR MONEY. YES THERE ARE A FEW FEMDOM WOMEN OUT THERE WHO HAVE GREAT IDEAS, BUT THEY ARE TIED TO FEMDOM AND NOT WORKING FULLY ON MATRIARCHY. THIS DOES NOT MAKE THEM BAD PEOPLE, BUT IT MAKES THEM LESS THAN FULLY COMMITTED DUE TO LACK OF TIME AND WITHOUT TIME (OH, HOW MUCH WE NEED TIME) THERE IS NO FULL COMMITMENT TO MATRIARCHY.
PRIOR TO BEATA COMING UPON THE SCENE, THE ONLY PERSON WORKING 'FULLTIME' ON MATRIARCHY BESIDES MYSELF I FOUND WAS WILLIAM BOND. THEN BEATA CAME ALONG AND IT SEEMED WE HAD THREE. BUT WHERE ARE THESE OTHERS? FROM WHAT I HAVE SEEN, THIS MOVEMENT IS BITS AND PIECES AND PEOPLE HAVING BITS AND PIECES OF THE VISION, BUT NOT THE WHOLE PICTURE. TO ME, IT IS IMPROVING BUT STILL, QUITE RETARDED.
Interpersonal relationships between women and men are one of the chief areas where Matriarchy can begin to take root.