OH SWAMI,
SINCE YOU DO NOT BELIEVE IN MY STIGMATA,
I DO NOT BELIEVE IN YOUR SAHAJA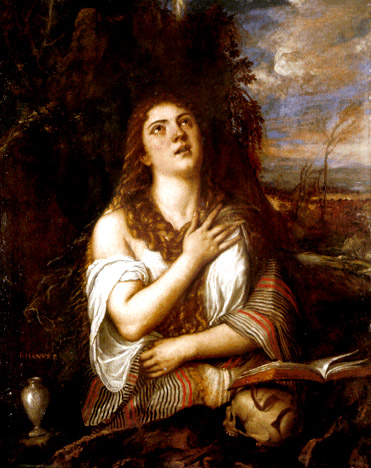 Penitent Mary Magdalene
Titian
PREAMBLE: For the last month or so Rasa has once again held Swami G to her bosom, promoting Swami's work and submitting her own writing to Swami. A new Swami interview was placed on the site. Respect was shown. Everything was going well until the last article.
The negative force of Swami's reaction should not have surprised Rasa. We've been here before. It's back to square one, the original interviews of the 2x4's.
Here is the article Swami G reacted to (interjections throughout), and last, Rasa's answer in red capitals, original text in italics.

Some thoughts of mine about Contemplation, Nonduality, and Action.
Swami G has taught me to stop suffering in spite of all that happens to me and that is why she is my Satguru. It was time to get off the cross and to let go. I found it hard because Jesus taught redemptive sufferings, but he got off the cross at his death and He resurrected, and so, we souls who obey him must sooner or later get off the cross (many Christians never did and held on to their death, even Padre Pio who died at 82, suffered horrible dark nights of the soul most of the time, his voluntary choice.)
Swami G to me was preaching yoga, and I felt yoga did not understand suffering. Finally I realized it was the RESURRECTION POWER OF JESUS CHRIST. That is no different than Nirvana - and so, I tried it and it worked.
SWAMI G: If you had entered it fully there would be nothing driving you to fix the world as it relates to Rasa
I am now at odds with Swami G and had a little torment as she wants me to give up all nonduality, (typo here, meant duality!) including the War with Sarlo!
SWAMI G: That is not Non-Duality but rather Duality in full swing. Yes, I am saying go forward into Non-Duality ----- the Actuality of it not the ideas about it.
But I suspect Swami G does not know ME. She knows what it is like inside her skin, her head, but is she well versed about mine? (Look at the length of my life, longer than Swami G's, and you will see there is a pattern of spiritual work rising up above unusual worldly activities and making use of them!) Perhaps she does not think it is important to dwell upon my life and mission, but if she did, I think she could see that God is taking me by a difficult, unusual, but fruitful path!
G: I started out in a Esoteric Christian Order that was all about rising up above worldly activities and making use of them. I Also went through many traumatic happenings in life which drove the persona for ages. I understand you much more than you can know.
EXCUSE ME. YOU UNDERSTAND YOURSELF MUCH MORE THAN I CAN KNOW. WHAT MAKES YOU THINK THAT KNOWING YOURSELF CAUSES YOU TO KNOW ME? THERE IS A DIFFERENCE.
AM I TO ASSUME THAT IF I KNOW MYSELF THOROUGHLY, (IF SUCH A THING COULD HAPPEN) THAT I WOULD THEN KNOW ALL PEOPLE? I THINK NOT. I THINK ONLY THE ALMIGHTY GOD IN ETERNITY COULD KNOW ALL PEOPLE INTIMATELY AND TOTALLY.
TO ME, THIS IS PRESUMPTION AND ARROGANCE. THE IDEA THAT YOU KNOW ME SEEMS TERRIBLY UNTRUE. YOU LOOK UPON ME FROM THE OUTSIDE, AT THE BITS AND PIECES YOU KNOW ABOUT ME. YOU DO NOT SEE THE GRACE OF GOD WORKING THROUGH ME, AND YOU WILL PROVE THIS IN YOUR SENTIMENTS BELOW. NO SWAMI G, YOU DO NOT KNOW ME BETTER THAN I THINK.

I also know this self righteous bandwagon that one marches to for a time. One wants to right the World of the Wrongs we feel we have suffered at the hands of unfeeling humanity.
IF I AM ON A BANDWAGON SO ARE YOU. YOU FIGHT ALL THE TIME AGAINST ANYONE WHO DARES RAISE THEIR HEAD ON THE SAME LEVEL AS YOURS, OR GOD FORBID, EVEN HIGHER.
SINCE STUDYING YOUR GROUPS, READING MANY POSTS, I HAVE SEEN YOU STRIKE DOWN ANYONE WHO DARES RAISE THEIR HEAD.
ANYONE WHO COMES FORTH WITH A GURU, OR WITH CLAIMS OF BEING ENLIGHTENED, GETS HIT WITH THE 2X4, SKULL CRACKED FIGURATIVELY SPEAKING, BECAUSE ONLY ONE PERSON CAN STAND THERE ABOVE ALL HUMANITY, AND THAT IS SWAMI G.
OH, EXCUSE ME. THERE IS ONE OTHER, THE ADVAITA SAINT IN LOS ANGELES. ONLY SWAMI G AND THAT MAN CAN STAND AS THE ABSOLUTE EPITOMENT OF SPIRITUALITY. IF ANYONE ELSE DARES DECLARE THEY ARE ONE WITH GOD, THEY ARE IN SAHAJA OR NIRVANA, THEY ARE ANOINTED, OR THEY HAVE ANY SPECIAL GRACES OR BLESSINGS, THEY WILL BE BEATEN BY THE POWERFUL 2X4 OF SWAMI G. THIS IS THE FIGHTING PATTERN. KNOCK DOWN ALL COMPETITIVE CLAIMS TO THE GLORY AND GRANDEUR OF THE TOP PLACE IN GOD'S WORLD.
(Back to Rasa original article:)

There are not many like me who can do what I do, - so few could handle it, accept it, live with it. It is just too hard. But I can do it, and I am doing it.
SWAMI G: What you are doing is much easier to do than letting it go. It gives one a platform of thinking themselves strong, a very motivating factor - a feeling of being righteous, etc.
NO, I AM NOT STRONG. GOD IS STRONG. IT IS MY FAITH THAT IS STRONG, MY CONFIDENCE AND TRUST. I PUT ON THE WHOLE ARMOR OF GOD, AND THAT MAKES ME STRONG, BECAUSE THE ONE IN ME IS STRONG. NEVER DO I CLAIM MY FLESH IS STRONG, ON THE CONTRARY. I ALWAYS POINT OUT IT IS THE ANOINTING THAT DOES EVERYTHING, NOT 'ME.'
(Back to Rasa's original article)

Swami G is like a professor or a PHD in spirituality - (much more than that) - and she sees from her office that I and all should be in a state of nonduality. I have been thinking deeply about that now for days, since she reprimanded me out about the 'War' thing. I came to this conclusion:
The state of NONDUALITY is the state of what Christians call the CONTEMPLATIVE life. What is contemplation? It is when discursive meditation ends, and the flow or pouring out of God 's grace begins, simply filling on up. One need not work or think or make any effort at all, grace fills the person with Truth, Revelation, and Peace. What a wonderful state to be in!
SWAMI G: Contemplative life is surrendering to the path as laid out by either Christ or Guru. It is contemplating the deeper aspects beyond the mundane emotional self image.
I BEG TO DIFFER HERE. THAT IS NOT MY DEFINITION OF CONTEMPLATION. CONTEMPLATION IS NOT THOUGHT. IN CHRISTIAN MYSTICAL THEOLOGY CONTEMPLATION IS WHAT GOD DOES, FILLING UP THE MIND OR CONSCIOUSNESS OF THE PERSON. (NOW I KNOW YOU WILL JUMP ON ME FOR USING MIND.....YOUR VERSION OF ADVAITA, WE DON'T HAVE A MIND, WE ARE BEYOND MIND, ETC. IT DOESN'T SCARE ME ANY MORE, THIS SUPPOSED SUPERIORITY OF YOURS IN ADVAITA AND YOGA.... I KNOW WHAT I HAVE, AND I NO LONGER STAND IN AWE. YOU HAVE BEEN USING WORDS AND VEDANTIC 'EDUCATION' TO BROWBEAT ME. KOWING MANY WORDS DOES NOT GUARANTEE KNOWING GOD. THE INTERNET IS FILLED WITH WANKERS WHO KNOW LOTS OF VEDANTA WORDS, I AM SICK OF READING THEM. EVERYWHERE I TRAVERSE THERE ARE YOGA NERDS READY TO KNOCK ME DOWN, AS THEY KNOW MORE THAN I KNOW ABOUT VEDANTA. THEY ARE SO PARTICULAR TO LET ME KNOW THEY KNOW MORE THAN ME. 'THOSE WHO CAN'T - TEACH.' RECENTLY TONY O'CLEARY HAS BEEN BROWBEATING ME. HE KNOWS ALL THERE IS TO VEDANTA, I AM JUST BEGINNING. TONY, YOU MIGHT KNOW WORDS, AND YOU CAN TALK THE TALK, MAYBE (NOT PROVEN TO ME AS OF YET) BUT CAN YOU WALK THE WALK? I WALK THE WALK. I AM THERE.)
I DON'T CARE WHAT YOU SAY ANYMORE, SWAMI G. I KNOW WHO I AM AND WHERE I AM, YOU WILL NOT DIMINISH MY STATUS WITH GOD. YOU CAN THINK ME WHEREVER YOU WISH, YOU CANNOT CHANGE WHERE I REALLY AM.
NOW ABOUT SURRENDER - I AM TOTALLY SURRENDERED TO GOD. IF I SURRENDERED ANY MORE I WOULD BE PHYSICALLY DEAD AS WELL AS EMOTIONALLY, MENTALLY AND THOROUGHLY DEAD. THERE IS NO ME LEFT, AND I WILL RESIST YOU TELLING ME WHO I AM, WHAT I AM AND WHAT I AM DOING, BECAUSE I KNOW MYSELF AND THE GOD WITHIN ME BETTER THAN YOU DO!
YOUR DEFINITION OF CONTEMPLATION ALSO SEEMS TO ME ROBS THE CHRISTIAN PATH OF WHAT IT CONTAINS: THE EQUIVALENT OF SAHAJA. WHEN A CHRISTIAN REACHES TRUE CONTEMPLATION, THEY HAVE SOME ASPECT OF THAT, AND IT INCREASES. IT BECOMES MORE STEADY AS THE CONTEMPLATIVE BECOMES MORE CLEAR, AND ANCHORED IN THEIR RELATIONSHIP WITH THE ONE ABSOLUTE. CONTEMPLATION IS A GIFT. IT IS NOT REGULAR MEDITATION. IT IS BEYOND THOUGHT. IT IS GRACE THAT POURS INTO THE MIND AND CONSCIOUSNESS.
However, are all souls to be there all the time, even the saints?
I trust not. Why? Because this state of Peace, absolute Peace, has no AMBITION. I know from the times I have been in deep SAMADHI (various degrees of spiritual trance that for me lasted months) I had NO AMBITION FOR ANYTHING EARTHLY, NOT EVEN THE DESIRE TO PREACH OR MINISTER. From what Swami G tells me, this is the state she is in.
SWAMI G: Are you not being worked with? Are people not being ministered to daily? Am I sitting like a slug on a log? No, I am in Flow. There is doing without doership, there is giving what may aide one to break through the mundane mind and it's foibles.

OH, WHAT A CONTRADICTION YOU PRESENT, SWAMI G! IT IS YOU WHO TOLD ME THAT YOU HAVE NO AMBITION AND NO DESIRES. YOU SAID IT DID NOT MATTER WHETHER YOUR MINISTRY CRASHED OR NOT, WHETHER OR NOT YOU CONTINUED IT. AND SO, YOU IN EFFECT, TOLD ME YOU HAVE NO AMBITION. IF IT HAPPENS, FINE, IF IT DOES NOT, FINE.
THIS IS WHAT I AM SPEAKING ABOUT. WHAT I AM SIMPLY SAYING IS THIS SORT OF WHATEVER WILL BE, WILL BE, DOES NOT DO FOR A MISSION AS LIKE MINE. THIS REQUIRES A GREAT DEAL OF AMBITION, FOR THE SAKE OF GOD.

YOU LAUGH AT MY DESIRES FOR GOD, YOU HAVE CONTEMPT FOR ALL THAT I DO. GO ON, KEEP LAUGHING. YOU CANNOT EFFECT ME ANY MORE. I THINK YOU ARE LIKE THE YOGIS WHO SIT RECITING THEIR GITA WHILE A WOMAN LIES GROANING WITH PAIN UNDER THE BRIDGE. A CHRISTIAN COMES BY AND ASKS THE GUYS TO HELP HER BUT THEY SAY NO, THEY ARE DOING SOMETHING IMPORTANT.
YOU HAVE MADE FUN OF MY WORK LONG ENOUGH, AND I WILL LEAVE YOU NOW, TO GO MY WAY IN PEACE. I WILL NOT HOLD YOUR ADMONITIONS IN MY HEAD ANY MORE. THEY ARE IN CONTRADICTION TO WHAT GOD IS TELLING ME. THEY ARE INCREDIBLY CONFUSING AND CONTRADICTORY.
YOU HATE THE IDEA OF 'SAVING THE WORLD.' YOU KEEP RIDICULING THIS ASPECT OF ME. BUT I FOLLOW JESUS CHRIST AS WELL AS ALL THE SAINTS OF ALL RELIGIONS. YOUR VERSION OF JESUS AND MINE ARE TWO DIFFERENT THINGS. I DISAGREE WITH YOUR VERSION AND WILL FOLLOW MINE, AS TAUGHT BY THE GREAT SAINTS OF CHRISTINAITY. YOUR VERSION OF JESUS TO ME, TO USE YOUR WORDS, IS ALL SKEWED. FRANKLY, THERE IS NO LOGIC TO IT, AS DITTO YOUR VERSION OF RAMAKRISHNA, GHANDI AND MARTIN LUTHER KING JR.
BY NO MEANS DID I SAY YOU ARE DOING NO WORK, THAT YOU ARE NOT WORKING. I WAS SPEAKING IN RELATIVE TERMS, OF WHAT YOU WOULD BE WILLING TO DO, AND THINGS YOU WOULD NOT BE WILLING TO DO.
IF YOU HAD HAD A BODY LIKE MINE, AND HAD BEEN A PROFESSIONAL DANCER, WOULD YOU HAVE GIVEN SERMONS ALONG WITH THE DANCE ROUTINE? OBVIOUSLY, THIS TOOK A REVOLUTIONARY FORCE TO DO THIS AND NO ONE HAS DONE IT BEFORE ME OR SINCE. I BELIEVE, FROM YOUR ACTIVITIES, THIS IS NOT SOMETHING YOU WOULD HAVE EMBRACED. (GO AHEAD, MAKE FUN OF ME, I CAN FEEL IT COMING. IT WILL NOT TOUCH ME.)
SECONDLY, WOULD YOU HAVE WALKED DOWN THE STREET FOR 2-3 HOURS A DAY, FOR 2 1/2 MONTHS, WITH A BULLHORN, PREACHING? BECAUSE THERE WAS NO CHURCH THAT WOULD LET YOU IN AND YOU DID NOT HAVE AN INTERNET SITE, WOULD YOU PREACH ON THE STREET? I DID THIS. I DON'T THINK YOU WOULD RELISH THE IDEA OF THIS WITH ALL THE HAZARDS AND THE INCONVENIENCE. WOULD YOU? (NATURALLY YOU WILL SAY YOU ARE SMARTER THAN THAT, YOU DID IT ON THE INTERNET. YOU ARE ALWAYS AHEAD AND ABOVE ME AND EVERYONE, IN YOUR MIND.)
SO I AM SPEAKING IN RELATIVE TERMS. YOU ARE A 'NORMAL-REGULAR' PERSON. YOU DO CONVENTIONAL THINGS. I AM NOT THAT KIND OF PERSON, I DO REVOLUTIONARY THINGS, THINGS THAT ARE UNUSUAL AND REQUIRE A LEAP OF FAITH AND A GREAT DEAL OF COURAGE.
WHAT YOU ARE DOING IS NOT AMAZING BECAUSE ALL THE YOGIS, SWAMIS AND MINISTERS HAVE DONE IT FOR THOUSANDS OF YEARS. I DID THINGS NO ONE DID. I WAS THE FOUNDRESS OF FEMALE BODY BUILDING. I PREACHED IN FRONT OF THE WHITE HOUSE, WHERE THE POWER OF FATIMA THEN ENDED THE COLD WAR. I DID THINGS UNUSUAL, DIFFERENT, CONTROVERSIAL AND I RAISED EYEBROWS. YOU HAVE NEVER WALKED IN SANDALS SUCH AS I HAVE. BUT IN YOUR MIND YOU ARE WAY AHEAD OF ME, YOU ARE THAT, AND TO GIVE ME A PASSING GLANCE OR A BACKWARD LOOK IS BENEATH YOU. YOU WILL QUICKLY, IN THAT EGO YOU DON'T HAVE, MAKE SHORT WORK OF MY ACCOMPLISHMENTS AND GRACES. YOU DIMINISH ME IN YOUR OWN MIND AND LIFT YOURSELF UP HIGH. HOW MIGHTY YOU ARE IN YOUR OWN CONCEIT. (OH, THIS WILL MAKE YOU MAD! THAT FEELING OF ANGER YOU NEVER HAVE!)
(Rasa' original article continues:)

That may be OK for her but not for me! My mission requires intense spiritual force and zeal to get through IRON DOORS OF RESISTANCE!
SWAMI G: Resistance is exactly what you are continuing to do and continuing to do according to Rasa, not according to Christ who spoke of Peace. Let the dead bury the dead; to go within, to go and sin no more; who spoke of edification; who spoke what needed to be spoken and then he moved on. He did not wage self-proclaimed Wars. He never taught to wage war. He spoke out against the pharisees, etc,. He never attempted to Force any to change their ways. He spoke out against Sin (or separation from God) which causes the pain and suffering.

But did he pick up a stone? The rest of the masses did but what did Christ do?
WE DIFFER 100% HERE, AND I BELIEVE YOU ARE DENYING THE TRUTH THAT YOU YOURSELF ARE FIGHTING. YOU ARE FIGHTING EVERYONE THAT DEFIES YOU OR DISAGREES OR SAYS THEY ARE ENLIGHTENED OR HAS GREAT GRACE. (TO YOU ALL GRACES ARE 'PHENOMENON' AND YOU ARE ABOVE DREAMS, VISIONS, AND THE GIFTS OF THE HOLY SPIRIT. IT MUST BE LONELY UP THERE WHERE YOU ARE. OR NOT LONELY, DEPENDING HOW ONE SEES IT. BUT YOU AND ONE GUY BEING THE ONLY ONES THERE, AND YOU DO NOT SEE EACH OTHER VERY MUCH, IS WHAT I MEAN....HOLY COW WHEN I GET TO HEAVEN I HOPE I AM NOT ALL BY MYSELF!) YOU ARE AT WAR WITH ANYONE OF THAT SORT THAT POSTS ON YOUR GROUPS. THIS IS A WAR, BUT YOU WILL NOT ADMIT YOU ARE AT WAR WITH SUCH PEOPLE.
SECONDLY, YOU WERE AT WAR WITH THE SARLO PEOPLE. YOU POSTED AND ARGUED WITH THEM - AND THIS IS WAR, ALL THAT I AM DOING EXACTLY THE SAME AS YOU DID - AND YOU POSTED ON GURU RATINGS MUCH LONGER THAN I DID.
I WAS AT GURU RATINGS FOR ABOUT TWO WEEKS, ARGUING WITH THEM. YOU WERE AT GURU RATINGS FOR ABOUT TWO MONTHS, (CORRECT ME IF I AM WRONG ON THE TIME) ARGUING WITH THEM. YOU WARRED ON GURU RATINGS LONGER THAN I DID.
WHAT I DID DIFFERENTLY IS THAT I WENT ELSEWHERE TO CONTINUE THE SPIRITUAL BATTLE. (AND THERE WILL ALWAYS BE CONFLICT. I DON'T CARE WHAT YOU SAY. CONFLICT IS PART OF LIFE, LET US FACE IT. NO MATTER WHAT WE DO, IT WILL ALWAYS EXIST, THAT IS THE NATURE OF THIS WORLD. IT IS GOOD VS EVIL, IT IS LIGHT VS DARKNESS, IT IS TRUTH VS IGNORANCE, IT IS LOVE VS HATE, IT IS ONE PERSON'S PERCEPTION VS ANOTHERS, IT IS ONE PERSON'S INTERESTS AND NEEDS VS THAT OF ANOTHER'S.)
'ACCORDING TO RASA?' NO, ACCORDING TO GOD. AGAIN, YOU CLAIM TO KNOW ALL ABOUT ME - MY LIFE AND PATH, BETTER THAN I CAN IMAGINE. YOU KNOW ME INSTANTLY AND THOROUGHLY. WHAT GIVES YOU THIS GREAT INSIGHT? WHY IS IT THAT YOUR INSIGHT GOES DIRECTLY AGAINST WHAT GOD IS TELLING ME AND THAT GOD HAS DIFFERENT ANSWERS FOR ME THAN WHAT YOU ARE SAYING? NATURALLY ON YOUR PART YOU WILL SAY YOU ARE SAT CHIT ANANDA, AND YOU KNOW ALL. PROVE IT TO ME. YOU DO NOT BELIEVE IN ME, AND I CANNOT PROVE MYSELF TO YOU, SO WHY SHOUD I BELIEVE IN YOU? WHY DO I AUTOMATICALLY HAVE TO BELIEVE THAT YOU ARE IN THIS HIGH PLACE WITH GOD WHERE YOU CLAIM YOU ARE, AT YOUR WORD? MY FAITH IN THIS ALL-KNOWING PLACE OF YOURS HAS DIMINISHED.
WHAT DID CHRIST DO? DID HE PICK UP A STONE? YOU ASK.
CHRIST CAME TO DO BATTLE AGAINST EVIL, AGAINST HYPOCRITES AND THOSE WHO LIVE BY THE LETTER OF THE LAW. HE PROVOKED THEM, AS DID THE DISCIPLES AFTER HIM, AS DID GHANDI AND MARTIN LUTHER KING JR.
JESUS KNEW, AS ALL THE GREAT ACTIVISTS OF ALL TYPES KNOW, THAT WHEN ONE FIGHTS THE STATUS QUO, AND WHEN ONE ROCKS THE BOAT, ONE INVITES DANGER AND HAZARDS, INCLUDING MARTYRDOM. JESUS DID NOT QUIETLY, SECRETLY, FROM THE CLOSET, TEACH A SECRET DOCTRINE. HE WENT OUT INTO THE OPEN WHERE THE ESTABLISHMENT HATED HIM AND WANTED TO DO HARM TO HIM, AND HE DEFIED THEM.
JESUS WAS AN EXAMPLE OF REVOLUTIONARY POWER AND FORCE, FIGHTING AND OBEYING UNTO DEATH. HE PICKED UP A WHIP AT ONE POINT AND BEAT UP THE MONEY CHANGERS, RIGHT IN THE TEMPLE IN FRONT OF THE RABBIS. HE KNEW THAT WOULD BRING THEIR WRATH UPON HIM. HE WAS FIGHTING FOR THE KINGDOM OF GOD.
EVERY APOSTLE AND DISCIPLE AND POWERFUL SOUL IN THE FOOTSTEPS OF JESUS RISKED THEIR LIVES TO SOME EXTENT, AND MANY WERE MARTYRED. THIS IS FORCEFUL WORK AGAINST THE STATUS QUO AND AGAINST EVIL. (AND I KNOW YOU WILL START LAUGHING AT ME FOR USING THE WORD EVIL. GO AHEAD. I DON'T CARE IF YOU LAUGH.)
JESUS FOUGHT VIGOROUSLY AGAINST THE VERY PEOPLE WHO ARE LIKE THE SARLO BUNCH. HE DID NOT JUST REACT, HE INITIATED WORDS AND IDEAS AGAINST THEM TIME AND TIME AGAIN. HE POINTED OUT THEIR HYPOCRISY AND EVIL REPEATEDLY. HE SAID THE WORDS THAT WOULD DRIVE THEM INTO GREAT ANGER. HE SAID THEY WERE DEAD GRAVES (ALL BEAUTIFUL ON THE OUTSIDE, BUT VILE ON THE INSIDE), LIARS (THEY ARE SONS OF HELL AND THEY LEAD OTHERS INTO HELL BY THEIR TEACHINGS), CHEATS (EATING UP WIDOW'S HOUSES) AND HYPOCRITES (STRAIN OUT A GNAT AND SWALLOW A CAMEL). THIS IS EXACTLY WHAT I AM DOING WITH THE SARLO BUNCH. THEY ATTACK JESUS OR GOD IN THE WAY THAT THEY ATTACK THE RIGHTEOUS. I AM POINTING OUT THEIR SINS, THEIR HYPOCRISY AND EVIL. I AM SPEAKING THE TRUTH ABOUT THEM THE WAY JESUS SPOKE THE TRUTH ABOUT SINNERS.
JESUS CAME TO BRING BOTH PEACE, AND A SWORD. (WHY WOULD A PERSON HAVE TO LEAVE THEIR FAMILY IN ORDER TO FOLLOW JESUS? IS THAT PEACEFUL? NO, IT IS FAMILY CONFLICT. IF YOUR FAMILY IS AGAINST GOD, YOU GO AGAINST YOUR FAMILY!) THE PEACE THAT JESUS BROUGHT WAS IN THE SOUL, IN THE DEPTH OF MY INNER SELF. THE SWORD THAT JESUS BROUGHT IS FOR THE WORLD - WHERE THOSE WHO ARE AGAINST GOD AND MYSELF ARE ETERNALLY AT WAR, BECAUSE THEY ARE AT WAR WITH GOD. THEY ARE AGAINST GOD, I AM FOR GOD, AND SO, THERE IS A CONFLICT. THIS CONFLICT CAN NEVER CHANGE AND WILL ALWAYS EXIST.

PERHAPS THIS IS THE PROBLEM THAT YOU ARE SO MAD ABOUT. YOU FOUGHT THE MEMBERS OF GURU RATINGS, BUT YOU DID NOT WIN. I AM THE ONLY PERSON WHO THEY ATTACKED WHO IS WINNING. I AM THE ONLY ONE WHO HAS THAT GREAT ANOINTING TO CHALLENGE AND CAST DOWN THE LIKES OF SARLO AND COMPANY. YOU WALKED AWAY WITHOUT A DEFINITIVE VICTORY, NEITHER WINNING NOR LOSING; SOME SORT OF A STALEMATE. BUT I AM WINNING TOTALLY AND ABSOLUTELY, BECAUSE OF THE GRACE AND POWER OF GOD THAT IS IN ME. GOD IS DEFEATING THEM. GOD HAS ALREADY DEFEATED THEM, WE JUST SEE THE KARMA PLAYED OUT. YOU WALKED AWAY FOR LACK OF RESOURCES PERHAPS? GOD PUT THE RESOURCES AT MY DISPOSAL. BECAUSE I AM TENACIOUS AND WILLING TO DO HARD THINGS, GOD GAVE ME THE POWER TO GAIN VICTORIES. YOU DON'T BELIEVE IN VICTORIES, I DO. YOU WALK AWAY, I GAIN THE VICTORY.

(Rasa's original article continues:)
Where a contemplative is without a doubt is a place of being 'above it all' in the highest reaches, and everything flows and happens.
SWAMI G: So Find out what flow is as yet you have not tasted it.
OH, GO ON SWAMI G, ON THAT HIGH HORSE OF YOURS. ONLY YOU HAVE TASTED PEACE AND 'THAT' AND GLORY. DO YOU REALLY KNOW EVERYONE? DO YOU SEE INSIDE THEIR SOULS?
(DO I SEE JEFF AND THE USUAL SUSPECTS WAITING IN THE WINGS AS YOUR GLEE CLUB, TO COME FORTH AND CONGRATULATE YOU FOR TROUNCING ME ONE MORE TIME? APPLAUD YOU FOR YOUR INFINITE PATIENCE WITH RASA, WHO DOES NOT DESERVE YOU, AND YOU THANKING THEM?INDEED, ONE DAY SOON WE WILL ALL FACE GOD AND ETERNITY AND THEN ALL HEARTS AND BOOKS AND SOULS WILL BE OPENED FOR ALL TO SEE.)
MY ORIGINAL GURU, REV. TALBOT, SAID TO ME THAT THE MOMENT SHE DIED, SHE WOULD ASCEND AS A MIGHTY SUN INTO ETERNITY.
BUT THE MOMENT SHE DIED, SHE DESCENDED INTO PURGATORY FOR TWO YEARS AND ELEVEN MONTHS, WHEREIN I MINISTERED TO HER. HOW THE MIGHTY HAVE FALLEN! HOW CONCEITED SHE WAS, HOW ABUSIVE, HOW LACKING IN COMPASSION AND MERCY.

But this is not for everyone at all times, I trust - or else why did Jesus and many others WALK THE EARTH SEEKING DISCIPLES AND PROVOKED GREAT SUFFERING FOR HIMSELF AND DISCIPLES?
SWAMI G: He did not seek Suffering for Himself nor His disciples it came about out of the ignorance of those whom heard not his message and understood it not. When they came to arrest him and one of his disciples cut off the ear of one that came what did Jesus do? Did he wage war or did he follow the path laid out for Him which was to continue to show the way out of suffering.
OF COURSE THERE WERE TIMES WHEN JESUS SAID NO TO WAR (HE WHO LIVES BY THE SWORD, DIES BY THE SWORD HE SAID TO PETER) BUT THERE WERE OTHER TIMES JESUS CALLED FOR WAR WHEN HE SAID TO THE DISCIPLES, THAT AFTER HE WAS DEAD, THEY WERE TO CARRY SWORDS!
AS IN ALL THINGS, THERE IS NO ONE ANSWER. SOMETIMES YOU WAR, SOMETIMES YOU DON'T. SOMETIMES YOU HAVE TO USE FORCE OR EVEN VIOLENCE, WHEREAS NO VIOLENCE WOULD BE THE IDEAL. BUT VIOLENCE MUST BE USED TO STOP VIOLENCE, AND ANYONE WITH A LEVEL HEAD KNOWS THAT. PEOPLE HAVE TO BE PUT IN JAIL AND VIOLENTLY ARRESTED, AND SOMETIMES SHOT. THEY HAVE TO BE LOCKED UP, THEY HAVE TO BE FORCED INTO SITUATIONS AGAINST THEIR WILL. LET'S NOT BE SILLY HERE AND LET US FACE REALITY.
I DID NOT SAY JESUS SOUGHT SUFFERING. I SAID JESUS PROVOKED SITUATIONS THAT WOULD BRING ON SUFFERING.

JESUS, HOWEVER, ANTICIPATED THE CROSS. WHEN PETER SAID THE CROSS WAS NOT FOR HIM (NOT FOR JESUS), OUR LORD REBUKED HIM,
'GET BEHIND ME, SATAN!!'
SO HE DID NOT SEEK SUFFERING FOR ITSELF, BUT HE SOUGHT TO DO THE WILL OF GOD AND SUFFERING WAS PART OF IT, IN THE END. AND THE SAME WENT FOR ALL HIS DISCIPLES EXCEPT JOHN. JOHN WAS THE ONLY ONE WHO DIED PROBABLY ASLEEP IN HIS BED.
Same as Jesus were Mahatma Gandhi and Martin Luther King, Jr., and they also suffered Jesus' fate, as have all martyrs and many activists!
SWAMI G: One stands up for the Truth what happens to the form is of no consequence.
I AM STANDING UP FOR THE TRUTH AND I HAVE MY OWN PATH, GUIDED BY GOD. JUST LIKE JESUS AND ALL OF THEM HAD.

And yet, should not this work be done? Should all saints become 'ENCLOSED' - NONDUAL - CONTEMPLATIVES?
SWAMI G: Who is enclosed? In flow, one works wherever they are. When one questions them that one speaks and gives what may be given as a matter of course.
AGAIN, THAT IS A RELATIVE TERM. FOR MYSELF I AM ANTICIPATING THE CONTINUUM OF A LIFE IN THE PUBLIC EYE. I DO NOT THINK YOU ARE ANTICIPATING HAVING A BOOK AND MOVIE OF YOUR LIFE PRODUCED AND GOING ON AN INTERNATIONAL LECTURE AND TELEVISION CIRCUIT.
I COULD STAY HERE ON THIS FARM, RETIRE TO THE ROCKING CHAIR OF POSTING ON THE NET. THE NET IS ONLY THE BEGINNING, A STEPPING STONE FOR ME. NATURALLY, IF GOD WANTED ME HERE AND TO BUILD A LITTLE ASHRAM NEARBY I WOULD DO THAT. BUT GOD HAS OTHER PLANS FOR ME, AND IT IS TO VENTURE INTO THE DEEP. WHAT ARE YOUR PLANS?
The Christian life without a doubt, teaches that CONTEMPLATION IS THE BETTER PART. NONDUALITY is the better part! But, for those who MUST BE ACTIVE IT IS THE BETTER PART FOR THEM TO BE ACTIVE!
SWAMI G: You can't have it both ways; this is justification of not wanting to surrender to peace. Martin Luther King Spoke of Peace for all men to be equal but he did not go out and wage a war nor did he attempt to slight others. Rasa, speaking out of anger is not doing the Lord's work.
TSK, TSK, TSK. WHAT MAKES YOU THINK I AM SPEAKING OUT OF ANGER AND NOT LOVE? IN MY WORK I AM THE MIND AND THE HAND OF GOD. GOD MOVES ME, I WORK. WHY DO YOU ATTRIBUTE ALL MY WORK TO EGO AND FLESH AND ALL YOUR WORK TO SPIRIT? IS THAT FAIR?
I WENT WITH PERFECT LOVE TO THE GURU RATINGS GROUP. THEY CHALLENGED GOD. I TOLD THEM NOT TO MESS WITH GOD. THEY MESSED WITH GOD, AND THEY GOT THEIR MESS BOOMERANGED BACK AT THEM. AND SO, THEY HAVE TO TAKE IT LIKE IT IS. IT IS JUSTICE, RIGHTEOUSNESS AND THE PEACE THAT COMES WITH THAT. THERE IS PEACE DEEP INSIDE ME BECAUSE I AM NOT A COWARD; AM WILLING TO STAND UP TO THIS SORT OF THING TRUSTING GOD. MY PERFECT TRUST AND FAITH IN GOD'S RIGHTEOUSNESS AND PROTECTION FOR ME IN BATTLE, IS WHAT GIVES ME COURAGE. EVEN IF I AM HURT, I AM HAPPY, BECAUSE I SERVED GOD WELL.
THERE ARE VARIOUS WAYS OF DOING THE WORK OF GOD, NO ONE WAY. YOURS IS ONE WAY, JOAN OF ARCS IS ANOTHER. WHAT HAVE YOU GOT TO SAY ABOUT JOAN OF ARC? WHAT ABOUT THOSE WHO FOUGHT HITLER AND STALIN? LET ME HEAR YOUR INTERPRETATION OF THAT. THAT OUGHT TO BE A GOOD ONE
NOW ABOUT ANGER. I HAVE SEEN YOUR ANGER, STEVE HAS SEEN YOUR ANGER. (REMEMBER STEVE, THE DEVOTEE WHO VISITED YOU FOR ONE WEEK?) NOW I HAVE SEEN YOU RUN THROUGH A WHOLE GAMUT OF HUMAN EMOTIONS IN OUR RELATIONSHIP OF NINE MONTHS. BUT I COULD HAVE MISSED SOMETHING. SO I ASKED STEVE, WHETHER YOU ACTED LIKE A NORMAL PERSON DURING HIS VISIT. THIS IS WHAT HE SAID,
'SHE WAS LIKE ANY OTHER PERSON. AND SHE GOT ANGRY - VERY ANGRY, WHEN I DECIDED I WOULD QUIT BEING A DEVOTEE AND JUST BE HER FRIEND.'
I ALREADY KNOW YOUR ANSWER - YOU HAVE GIVEN IT BEFORE. WHEN SWAMI G GETS ANGRY, IT IS DIFFERENT. IT IS FLOW, IT IS RIGHTEOUS, IT IS NOT WHAT YOU THINK IT IS. BUT WHEN RASA GETS ANGRY, ON THE OTHER HAND, IT IS FLESH, IT IS EGO....... TELL ME ANOTHER ONE.
WHAT IS IT ABOUT SWAMI G THAT SHE MUST DENY HER HUMAN EMOTIONS? IS IT THAT YOGA GAME THAT SAYS ASCENDED SOULS HAVE NONE? I THINK IT IS. IT IS A GAME WE PLAY, A KIND OF SEMANTICS. WE GET ANGRY AND JEALOUS, BUT WE CALL IT SOMETHING ELSE. WE ARE NOT ALLOWED TO BE HUMAN.
BUT THEN ONLY SWAMI G IS ALLOWED TO CALL HER EMOTIONS GODLY, NOT HUMAN. RASA DOES NOT HAVE THAT RIGHT. RASA IS LOWER THAN SWAMI G, THEREFORE, ALL THAT SHE DOES IS OF EGO AND FLESH. CASE CLOSED, ACCORDING TO SWAMI G. DITTO FOR THE REST OF HUMANITY, ALL IN EGO AND FLESH EXCEPT SWAMI MEXICO AND SWAMI L.A. THE TWO LEADING LIGHTS OF THE WORLD WHO HAVE NO EGO EXCEPT MAYBE SOME GUYS IN TIBET, AND DO NOT TAKE APPEARENCES, BECAUSE WHEN THEY GET ANGRY AND JEALOUS YOUR EYES ARE PLAYING TRICKS ON YOU.
(Rasa' original article continues)
You are called to contemplation, fine. But if you are called to action, you must be in the life of action, not in the life of the hermit!
SWAMI G: If I were a hermit there would be no Working with you nor would there be answering email after email. Nor would there be traveling all over the world when asked to give Satsang, Diksha, Darshan, etc.
I DID NOT SAY YOU ARE A HERMIT! JUST SPEAKING IN RELATIVE TERMS, IN GENERAL.
I repeat being on a Warpath is not the work of God, it is the illusion of ego that seeks to keep control intact.
HERE WE GO. WHEN RASA WORKS, SHE IS IN EGO. WHEN SWAMI G WORKS, SHE IS IN FLOW. WHEN RASA HAS EMOTIONS THEY ARE LOWER EMOTIONS, WHEN SWAMI G HAS EMOTIONS, THEY ARE THE FLOW OF SOMETHING OR OTHER.
(Rasa continues)
So St. Thomas Aquinas has taught me!)
SWAMI G: So who did he display to the world in their most negative light. Who did he continually chase to keep a war going?
WHOSE SIDE ARE YOU ON? THOSE GUYS TROUNCED YOU, I AM STANDING UP TO THEM AND TEACHING THEM WISDOM, AND YOU ARE ON THEIR SIDE PERHAPS? I AM NOT CHASING THESE GUYS! I AM ANSWERING THEM AND RIGHT NOW OTHER PEOPLE ARE BUILDING BLOGS AND SENDING ME THE LINKS. I MERELY AM POSTING WHAT IS GIVEN. NOT WRITING ANYTHING NEW EXCEPT FOR TITLES AND A FEW SMALL THINGS. TO ME, THE WAR IS OVER. THE KARMA OF IT IS PLAYING OUT, THAT IS ALL. OTHER PEOPLE ARE MOSTLY DOING THINGS NOW, NOT MYSELF. THE MOMENTUM OF IT TOOK HOLD IN THE UNIVERSE.
(Rasa's original article continues)
(Now I am not saying Swami G is a hermit, but her life is more contemplative than active, as she does stay in the confines of a religious world. She does not go outside 'with pigs' and get dirty!
SWAMI G: On the contrary many pigs have been come across but one does not need to lie down and wallow in their dirt. One feeds them whatever may be of benefit and either they eat it or not.
But as Christ said beware and cast not your pearls before the swine lest they turn and rend you.
NO MORE PEARLS, SWAMI. I AM CASTING THE MUD TO THE PIGS, BECAUSE THAT IS WHAT THEY UNDERSTAND. (SMILE)
So Rasa do you know better than Christ whom you say you follow?
GOD IS LIVING AND WORKING IN ME, I ASSURE YOU.
(Rasa's article)
She stays within a certain parameter, an enclosure, of religious spirituality, and her groups are special to spirituality, no other muck need apply. She monitors out anything that is impertinent or irrelevant. She wants no MIX and no MESS!)
SWAMI G: I have been in the trenches and trenches come and find me often. There is a difference is giving what may be given and having a reality check about whether it is being accepted or not versus giving yourself a reason to engage in debate and word calling and exchanges which degrade into nothing more than trying to win a war in which no one wins.
I DISAGREE. EVERYONE WINS WHEN GOD IS ON THE 'WARPATH.' I EXPLAINED EVERYTHING IN NO UNCERTAIN TERMS ON THE ARTICLES ON MY SITE, UNDER PASTOR'S JOURNALS' THE SARLO WAR. I EXPLAINED HOW WHEN GOD 'EXPLODES' DURING TIME OF 'WAR' THE SHAKTI POWER INCREASES AND IT GOES TO EVERYONE, ACCORDING TO THEIR DESSERTS. TO SOME IT BRINGS ENLIGHTENMENT, TO OTHERS, CHASTISEMENT. TO JODY IS HAS BROUGHT BOTH. ON MY SITE ALSO ARE THE VISIONS I HAD OF JODY AND THIS SHAKTI HAS BROUGHT HIM TO THE STATE CALLED BETROTHAL. ONE MORE STEP, IF IT COMES, IS THE MYSTICAL MARRIAGE. GOOD THINGS HAVE HAPPENED!
(Rasa continues)
But don't some people have to walk with sinners? With those who are down and dirty with sin, filthy with it, really stuck in lower planes?
SWAMI G: I have news for you, 98 % of humanity is within that category. This is why Satsang is given, meditation is taught, Darshan is given, etc. If people are chasing desires and in mundane mind then they are sinners (or not knowing that God or self is one) sin is simply having the mind set of separation - having a hole verses knowing one is whole.
Who will go there? Not many. But I will! And I do not go as righteous reformer - as far as the sex world, I've been there and I am still partially by way of appearance , but I refrain from sin. That is the only difference. (Swami G said something about my being self righteous in the Sarlo War and I admit faults of mine could creep in and have crept in, but overall, I think I am clean.)
G: Any Guru or guide or person dealing with the world in any capacity any day goes there. Dealing with conditioned minds is going there.

Help those who are seeking, leave those who have no idea to the pig sty's where they prefer. Eventually they will begin to tire or fall far enough that they begin to question rather than rant and rave on witch hunts and self proclamations of egos grand superiority which blocks the way to surrender and liberation.
Now about who I am - the personality in this theater of life that I play. Am I saying that I want to be active and nothing else? No indeed, I am a HYBRID of ACTION and CONTEMPLATION. I have two sets of powerful faculties that are equally strong. (So God told me)
G: Perhaps Rasa's will is skewing what is heard internally.
AGAIN, RASA, DO NOT HOLD YOUR HEAD HIGH. NOT EQUAL OR ABOVE SWAMI G, OR THE 2X4 WILL CRACK YOUR SKULL! YOU SOUND THREATENING HERE, RASA, YOU SOUND SUPERIOR!
(Rasa continues)
What does this mean? Who was like that? The best example: St. Catherine of Sienna. (There have been over 300 books written about her!) She was a perfect contemplative, no slouching there, and she was great in action, full of zeal and power. How about St. Teresa of Avila, who started multiple 'discalced' Carmelite convents, reforming the entire Order? And they both had the INTERIOR DIVINE STIGMATA, which Rasa also has!
G: You are Neither of those...
THANK YOU, SWAMI. AND BY THE RETURN OF YOUR COMPLIMENT, I NO LONGER BELIEVE IN THAT MYSTERIOUS SAHAJA STATE OF YOURS UNLESS IT IS PROVEN TO ME.
...and it is time to let go of the claims of interior divine stigmata. In all cases of stigmata they were quite visible.....
I AM AFRAID TO PULL RANK ON YOU ON THAT ONE. I HAPPEN TO KNOW CHRISTIAN MYSTICAL THEOLOGY BETTER THAN YOU DO, SWAMI G. YOU STICK TO YOUR HINDU ADVAITA AND I WILL STICK TO WHAT I AM FAMILIAR WITH.
I GAVE THOSE TWO EXAMPLES SPECIFICALLY BECAUSE THESE WOMEN BOTH LIVED LIVES OF CONTEMPLATION AND ACTION, LIVES OF ACTION IN NONDUALITY. (THE OTHER GREAT MENTORS /GURUS OF MINE, ST. GERTRUDE THE GREAT AND MARY OF AGREDA HAD THE SAME INTERIOR STIGMATA, BUT THEY LIVED LIVES OF ENCLOSURE, SO I DID NOT CITE THEM.) AND EACH ONE OF THEM HAD THE GRACE, INVISIBLE AND UNSEEN TO THE EYE, - WHICH IS TOTALLY ACCEPTED BY ALL IN THE KNOW - ALL THE GREAT SCHOLARS AND THEOLOGIANS;
THEREFORE, YOU ARE TOTALLY WRONG. I GAVE YOU CREDIT BEFORE THAT YOU WANTED ME TO LET GO OF THE PAST, AND TOLD ME TO SHUT UP ABOUT THE STIGMATA AS A FAVOR TO ME - TO MOVE ON. I SEE NOW THAT IT WAS NOT A FAVOR, IT IS ONLY YOUR JEALOUSY COMING OUT.
YES, JEALOUSY. BECAUSE YOU THINK YOU HAVE WHATEVER I HAVE AND MUCH MORE! AND SO YOU (I PRESUME IT SOUNDS LIKE YOU ARE SAYING YOU DO) AND MANY OTHERS HAVE THIS FEELING IN THE HEART.
DEAR LADY, IT IS SO MUCH MORE THAN THAT. IT IS MARTYRDOM. YOU DID NOT SUFFER WHAT I SUFFERED BY WAY OF THIS GRACE. IT CARRIES A HEAVY PRICE. FOR ME IT WAS EIGHTEEN YEARS IN THE 'DARK NIGHT OF THE SOUL' AND THE 'SHALLOWS AND WASTES OF HUMAN SENSE.' I WILL NOT CAST PEARLS HERE, BECAUSE YOU ARE NOT DESERVING OF MY TELLING OF IT. YOU DON'T UNDERSTAND. YOUR JEALOUSY HAS BLINDED YOU TO SUCH A DEGREE.
I SEE YOUR PATTERN. YOU MUST BELIEVE IN THAT HEIGHT OF YOURS. IF I HAVE THE DIVINE STIGMATA, WHICH IS THE HIGHEST GRACE A CHRISTIAN CAN HAVE - (IT IS MARTYRDOM) - AND YOU DON'T - THEN I AM HIGHER THAN YOU IN GRACE. THAT CANNOT BE. THEREFORE, I DO NOT HAVE THE STIGMATA, I MUST SHUT UP ABOUT IT, AND IT IS TIME TO LET GO OF THE CLAIM OF IT!
I THINK IT IS TIME TO LET GO OF YOUR JEALOUSY!
AND NOW I HAVE PUSHED THE ULTIMATE BUTTON ON SWAMI G. NEVER, EVER DID I CLAIM SOME KIND OF MENTAL HIGHER OR BETTER THAN SWAMI G'S. BUT SIMPLY BY CLAIMING STIGMATA, SWAMI KNOWS WHAT? THAT I AM HIGHER. YES, AND SO, GO AHEAD AND GET INTO A RAGE. THIS GRACE PUTS ME HIGHER THAN YOU, SWAMI G, WHATEVER YOUR STATE IS. I AM A MARTYR. YOU ARE NOT. THAT MEANS I AM HIGHER. WHOOPEE. THANK YOU GOD. EVEN THOUGH I SUFFERED FOR EIGHTEEN YEARS FOR THIS GRACE, I HAVE IT, AND NO ONE CAN REMOVE IT FROM ME FOREVER!
WHEN I ASCEND INTO HEAVEN MY HEART WILL BE SHINING LIKE A BEACON. IT IS SHINING NOW, BUT EARTHLY SENSE CANNOT SEE IT. THANK YOU, ALMIGHTY GOD, FOR MARTYRING ME WITH THE HIGHEST SAINTS WHO EVER LIVED, FOR ENDURING IT AND LIVING THROUGH IT, AND THE POWER OF IT IS SUBLIME!

One may feel that their heart is Pierced and this has happened to many on the path of the mystic but we don't go around with a banner saying we have a Divine Interior Stigmata.
BECAUSE YOU DON'T HAVE IT. YOU DON'T HAVE MY DEGREE OF LOVE!
This is a frame of mind and consciousness that develops when one is identifying with the saints and a mystical path. It is more common that you know.
YADDA, YADDA, YADDA.
So I, Rasa, am both a contemplative and an active, a nondualist and dualist. I have to be a dualist because otherwise I could not get my work done!
SWAMI G: Rasa, you don't understand what is means to be dual versus non-dual. Just because one's consciousness is non-dual doesn't mean that they may not be active in the world. One is either still in persona, the 'me' game and dual mind or the illusion has been broken and the consciousness of Non-Duality prevails without suffering and self created agendas.
When in deep Samadhi with Muktananda I said to him, God,
'This is great. No more going out into the world. I will stay here and do quiet work. The world is dangerous and it is for the lowlifes. I will stay here.'
That night I had a dream, and Muktananda, God, said to me:
'My work is not yet done. You must go back into the world. This samadhi will close and you will get all the benefits, but you must go into the world and reach out to others.'
This made me sad for a while. Indeed, it is sad to leave a type of Nirvana and go back into a place which Swami G calls 'suffering.'
SWAMI G: I can be quite active in the world as Christ says in the world but not of it. This is having gone and remaining beyond mundane minds attachments and conditionings.
However, with the help of my Satguru Swami G, I have learned of the Sahaja state. In it, she says that she enjoys permanent, steady bliss and peace, but is still active. I think I have gained some sort of state like that, because I am not suffering, but I am not in deep samadhi bliss. Most of the time, I am happy and at peace. And I have the ability to reach the lowlifes! Thank God for that! And God does love sinners!
(Rasa rests her case)
SWAMI G: In chasing lowlifes and waging a war this does not come out of Peace. If it is most of the time then it is not steady therefore it is not sahaja for sahaja means 'effortless' Better to let go of attempting to be some type of warrior mentality and find that gentle stream of Living Waters.
Infinite Love,
Rasa
March 27, 2006